»

Recipes

»

Stuffing

»

Zucchini With Brown Rice Stuffing
Zucchini With Brown Rice Stuffing Recipe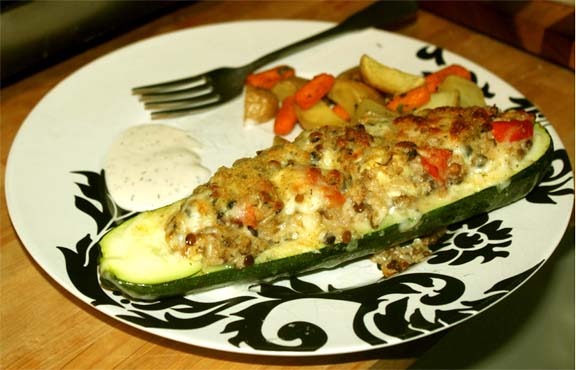 Ingredients
Brown rice

1⁄2 Cup (8 tbs)

Water

1 3⁄4 Cup (28 tbs)

Salt

1⁄2 Teaspoon

Butter/Margarine

1⁄2 Tablespoon

Zucchini

4 Medium

Butter/Margarine

2 Tablespoon

Finely chopped onion

1⁄4 Cup (4 tbs)

Tomato

1 Medium

, chopped and drained

Chopped parsley

2 Tablespoon

Basil

1⁄4 Teaspoon

Thyme leaf

1⁄4 Teaspoon

Salt

3⁄4 Teaspoon

Grated parmesan cheese

2 Tablespoon
Nutrition Facts
Serving size: Complete recipe
Calories 896 Calories from Fat 379
% Daily Value*
Total Fat 43 g66.6%
Saturated Fat 25.3 g126.5%
Trans Fat 0 g
Cholesterol 107 mg
Sodium 2983.7 mg124.3%
Total Carbohydrates 106 g35.3%
Dietary Fiber 14.2 g56.7%
Sugars 17.6 g
Protein 30 g59.6%
Vitamin A 123% Vitamin C 299.5%
Calcium 54.9% Iron 38.6%
*Based on a 2000 Calorie diet
Directions
Preheat oven to 350°F (177°C).
Cook brown rice with water, 1/2 teaspoon salt and 1/2 tablespoon butter or margarine according to package directions.
Trim off ends of zucchini; cut in half lengthwise.
Scoop out center leaving a 1/4-inch shell on each.
Finely chop scooped-out centers of zucchini.
In a medium skillet melt 2 tablespoons butter or margarine.
Add onion, tomato and chopped zucchini.
Cook until moisture is evaporated, about 10 minutes.
Add parsley, basil, thyme and 1/4 teaspoon of salt.
Stir mixture into cooked brown rice.
Cool slightly.
Sprinkle zucchini shells with remaining 1/2 teaspoon salt.
Fill with brown-rice mixture.
Place in a shallow 2-quart casserole.
Cover tightly.
Bake until hot, about 20 minutes.
Uncover.
Sprinkle with Parmeasan cheese.
Return to oven to melt cheese, about 5 to 8 minutes.