»

Recipes

»

Crucnhy Zucchini Boats
Crucnhy Zucchini Boats Recipe
These Zucchini Boats taste fantastic ! Try these nutty herbed and creamed stuffed zucchini for your next meal. Tell me if you share my passion for these Zucchini Boats.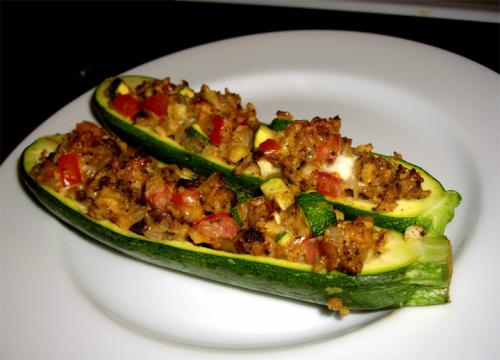 Summary
Difficulty Level
Easy
Health Index
Average
Ingredients
Zucchini

6 Medium

, washed and ends removed (5 To 6 Inches Long)

Tomato

1 Medium

, cut in small pieces

Chopped salted almonds

1⁄4 Cup (4 tbs)

Chopped parsley

1 Tablespoon

Finely chopped onion

1 Teaspoon

Seasoned salt

1⁄2 Teaspoon

Butter/Margarine

2 Tablespoon

Cracker crumbs

1⁄4 Cup (4 tbs)
Nutrition Facts
Serving size: Complete recipe
Calories 670 Calories from Fat 392
% Daily Value*
Total Fat 44 g67%
Saturated Fat 16.9 g84.3%
Trans Fat 0 g
Cholesterol 64.5 mg
Sodium 1159.1 mg48.3%
Total Carbohydrates 63 g20.8%
Dietary Fiber 17.9 g71.4%
Sugars 26.5 g
Protein 22 g43.6%
Vitamin A 102.8% Vitamin C 357.4%
Calcium 27.9% Iron 33.1%
*Based on a 2000 Calorie diet
Directions
1. Cook zucchini. Let cool until easy to handle.
2. Remove top third of each zucchini and chop coarsely. Scoop out and discard centers. Set zucchini aside in a 1 1/2-quart glass baking dish or on a microwave-oven-safe serving platter. Put chopped zucchini and tomato into a bowl. Add almonds, parsley, onion and seasoned salt; mix well.
3. Melt butter in a small glass dish in microwave oven (about
30 seconds at High). Brush zucchini with half of melted butter. Spoon filling into zucchini shells. Mix remaining melted butter and cracker crumbs. Sprinkle over filling.
4. Heat uncovered in microwave oven to serving temperature (2 to 3 minutes at High).