»

Recipes

»

Stew

»

Zesty Short Rib Stew
Zesty Short Rib Stew Recipe
This Zesty Short Rib Stew is my favorite. Try this short rib stews with Brussels sprouts and carrots in barbecue sauces for your next meal. Your suggestions for this Zesty Short Rib Stew are welcome.
Savory Beef Short Ribs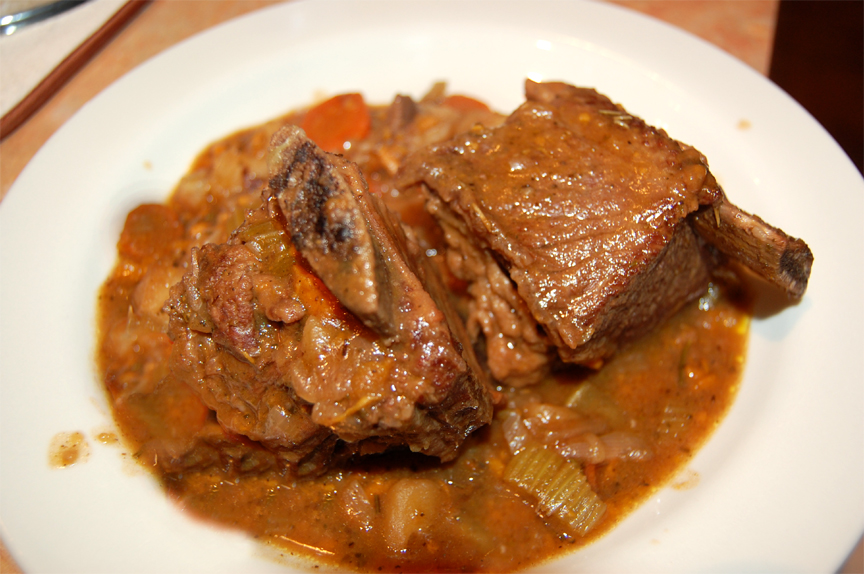 Ingredients
Salad oil

2 Tablespoon

5 pounds beef chuck short ribs

1 medium-sized onion, cut into quarters

All purpose flour

18 Ounce

Water

1/2 Cup (16 tbs)

5 medium-sized carrots, each cut crosswise in half

2 10-ounce containers Brussels sprouts
Directions
1. In 8-quart Dutch oven over medium-high heat, in hot salad oil, cook short ribs, a few at a time, until well browned on all sides, removing ribs to bowl as they brown.
2. Reduce heat to medium; add onion to drippings in Dutch oven and cook, stirring occasionally, until tender, about 5 minutes. Spoon off fat from Dutch oven. Return short ribs to Dutch oven; stir in barbecue sauce and water; heat to boiling. Reduce heat to low; cover and simmer 1 1/2 hours, stirring occasionally. Add carrots; cover and simmer 30 minutes. Add Brussels sprouts; over medium-high heat, heat to boiling. Reduce heat to low; cover and simmer 15 minutes or until vegetables and meat are tender. Skim fat from liquid.