»

Recipes

»

Meatball

»

Yummy Meat Balls
Yummy Meat Balls Recipe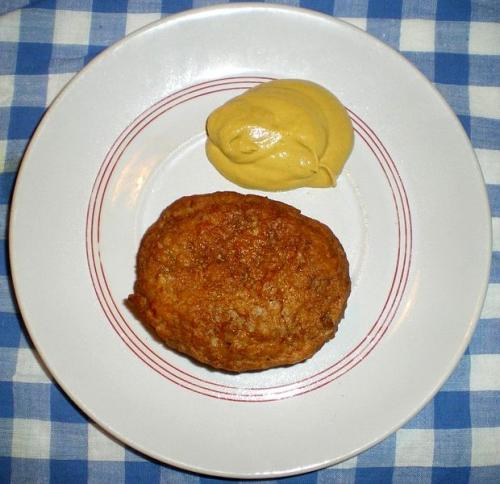 Ingredients
Ground beef

1 Pound

Ground pork

1⁄2 Pound

Onion

1 Small

, minced

Uncooked rice

1⁄2 Cup (8 tbs)

Cracker crumbs/Corn flake crumbs

1⁄2 Cup (8 tbs)

Salt

1⁄2 Teaspoon

Pepper

To Taste

Canned tomato soup

10 1⁄2 Ounce

(1 Can)

Water

120 Milliliter

(1 Soup Can)

Egg

1
Nutrition Facts
Serving size
Calories 669 Calories from Fat 401
% Daily Value*
Total Fat 44 g68.4%
Saturated Fat 15.9 g79.6%
Trans Fat 0 g
Cholesterol 173.7 mg
Sodium 666.4 mg27.8%
Total Carbohydrates 35 g11.6%
Dietary Fiber 2.1 g8.5%
Sugars 6.2 g
Protein 34 g67.6%
Vitamin A 4.2% Vitamin C 12.3%
Calcium 3.8% Iron 15.1%
*Based on a 2000 Calorie diet
Directions
GETTING READY
1. Grease a casserole dish
2. Preheat oven to 375°

MAKING
3. Mix the ground meats, onions, rice, crumbs, egg and the seasonings
4. Shape the mixture into large golf balls
5. Place the balls into the greased casserole dish
6. Dilute the soup with the water
7. Pour the diluted soup over the balls and then place the dish into the oven
8. Cook at 375° for one hour or till done

SERVING
9. Serve hot with mustard sauce.