»

Recipes

»

Roll

»

Yugoslavian Cabbage Rolls
Yugoslavian Cabbage Rolls Recipe
Yugoslavian Cabbage Rolls is a delicious snack recipe which I always love to have. I bet, once you have this, you will always crave for some more.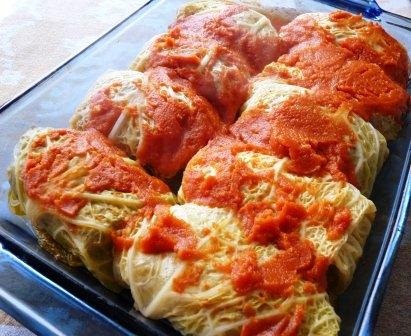 Ingredients
Cabbage head

1 Large

(About 2 Pounds)

Onions

2 Medium

, finely chopped

Butter/Margarine

1 Teaspoon

Ground veal/Ground turkey

3⁄4 Pound

Salt

1 1⁄2 Teaspoon

Ground allspice

1⁄2 Teaspoon

Anise seed

1⁄2 Teaspoon

Ground cinnamon

1⁄4 Teaspoon

Freshly ground nutmeg

1⁄4 Teaspoon

Garlic

2 Clove (10 gm)

, minced

Low fat cottage cheese

3⁄4 Cup (12 tbs)

Egg whites

2

Canned tomato paste

6 Ounce

Dry red wine

1 Cup (16 tbs)

Sauerkraut

1 Pound
Nutrition Facts
Serving size
Calories 172 Calories from Fat 31
% Daily Value*
Total Fat 4 g5.4%
Saturated Fat 1.5 g7.5%
Trans Fat 0 g
Cholesterol 30.7 mg
Sodium 721.1 mg30%
Total Carbohydrates 19 g6.2%
Dietary Fiber 5.2 g20.7%
Sugars 8.5 g
Protein 12 g24.3%
Vitamin A 7.7% Vitamin C 78.1%
Calcium 9.5% Iron 12.2%
*Based on a 2000 Calorie diet
Directions
Core cabbage, separate leaves, and cook in a large pot of boiling salted water until leaves are tender, about 5 to 7 minutes; drain and cool.
Saute onions in butter until glazed.
Mix together the meats, salt, allspice, anise seed, cinnamon, nutmeg, garlic, cottage cheese, egg whites, and onions.
Lay out a cabbage leaf and spoon a walnut sized mound of meat at one end.
Fold up sides and roll up.
Combine tomato paste and wine and spoon a thin layer in two 7 by 12 inch baking dishes.
Cover with the abbage rolls.
Drain sauerkraut and rinse under cold water.
Combine remaining tomato paste and wine mixture with sauerkraut and spoon over the top.
Cover with foil and bake in a 350° oven for 50 minutes.
Contains about 200 calories per serving.