»

Recipes

»

Salad

»

Yogurt Cheese Pierogi With Shaved Beets & Orange Salad In Sherry Vinaigrette
Yogurt Cheese Pierogi with Shaved Beets & Orange Salad in Sherry Vinaigrette Recipe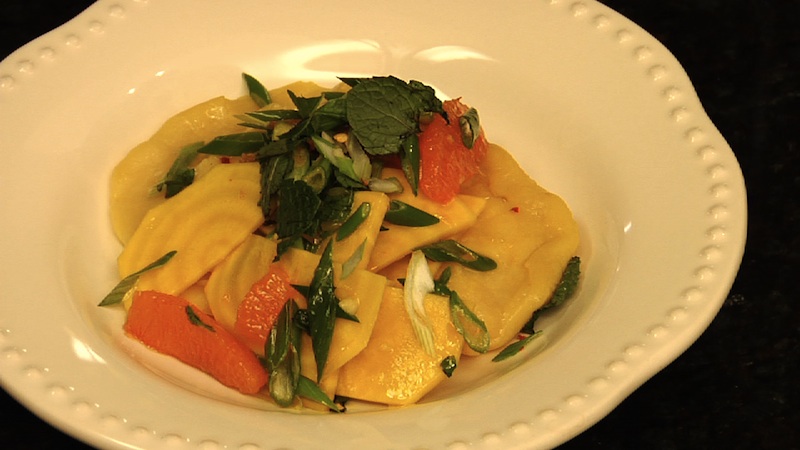 Recipe Story
Recipes by Chef Billy Brigtsen & Sloane Miller of "Allergic Girl"
Ingredients
For yogurt cheese ingredients

Lactose free yogurt

3 Cup (48 tbs)

(Green Valley Organics)

For pierogi dough ingredients

Gluten free flour

1 Cup (16 tbs)

Water

2 Tablespoon

Lactose free sour cream

1 Tablespoon

(Green Valley Organics)

Egg

1

Olive oil

1 Teaspoon

Salt

1⁄2 Teaspoon

For beet salad ingredients

Beet

1

, peeled and sliced very thin with a knife or on a mandolin

Orange

1

, segments removed

Scallions

1 Tablespoon
Nutrition Facts
Serving size: Complete recipe
Calories 1007 Calories from Fat 94
% Daily Value*
Total Fat 11 g16.3%
Saturated Fat 2.3 g11.6%
Trans Fat 0 g
Cholesterol 221 mg
Sodium 2105.6 mg87.7%
Total Carbohydrates 183 g61%
Dietary Fiber 8.4 g33.6%
Sugars 64.5 g
Protein 41 g82.6%
Vitamin A 50.8% Vitamin C 136.2%
Calcium 174.8% Iron 14%
*Based on a 2000 Calorie diet
Directions
In a bowl, pour the flour and make a well in the middle. Blend the rest of the ingredients together and pour them into the well, stirring and gradually incorporating the flour into the wet ingredients. Bring it all together and form into a ball, kneading for just a few minutes. Wrap it and let it rest for 5 minutes. With a rolling pin, roll the dough out on a lightly floured tabletop. Roll the dough out to a thickness of about 1/8 inch and cut out rounds with a glass or other appropriate mold. Brush a bit of water around the perimeter of the cut pieces and place a scant tablespoon of yogurt cheese in the middle and fold it over to make a half moon. Boil in salted water for approx. 5 minutes and set atop the Beet Salad (directions below).
Toss the beets, orange segments, and scallions with vinaigrette made with 1 Tbsp. of sherry vinegar, 2 Tbsp. olive oil, fresh cracked black pepper, and sea salt.
Thank you to Chef Billy Brigtsen & Sloane Miller of "Allergic Girl" for creating this amazing recipe for our gluten-free friends. To see more great recipes using
Green Valley Organic
Products visit
www.greenvalleyorganics.com
.