»

Recipes

»

Rice
Yellow Rice Recipe
This is a traditional South African recipe, which comes from the great culinary tradition of the Cape Malays -- originally brought in as slaves in the 17th century. It's easy and plain, but great with meats like venison, corned beef tongue or any meat with gravy. Also usually served with Bobotie: There is a good recipe by Caryn on this site.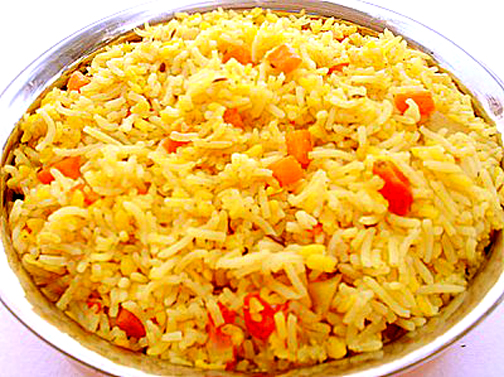 Ingredients
Long grain white rice

1 Cup (16 tbs)

Salt

1⁄2 Teaspoon

Turmeric

1 1⁄2 Teaspoon

, ground

White sugar

3 Tablespoon

Ground cinnamon

1⁄2 Teaspoon

Black raisins

1⁄2 Cup (8 tbs)

Butter

1 Tablespoon

Water

2 1⁄2 Cup (40 tbs)
Nutrition Facts
Serving size
Calories 345 Calories from Fat 31
% Daily Value*
Total Fat 4 g5.4%
Saturated Fat 2.1 g10.4%
Trans Fat 0 g
Cholesterol 8.1 mg
Sodium 253.2 mg10.6%
Total Carbohydrates 73 g24.4%
Dietary Fiber 2.8 g11.3%
Sugars 33.1 g
Protein 4 g8.5%
Vitamin A 1.9% Vitamin C 0.85%
Calcium 2.4% Iron 6.7%
*Based on a 2000 Calorie diet
Directions
In a saucepan, combine the rice, salt, turmeric, sugar, cinnamon, raisins, butter and water. Bring to a boil uncovered. When it comes to a boil, reduce the heat to low, cover and let it simmer for 20 to 30 minutes, or until rice is fluffy and water has been absorbed. Remove from the heat and fluff with a fork. Keep warm until serving time.

abbigay says :
i love it
Posted on:
3 May 2011 - 8:20pm

Anonymous says :
its origin isnt african, its from the indo malay people
Posted on:
8 September 2010 - 2:51pm

Hey Lerena, I just want to know that how this African yellow rice is different from South Asian Cuisine.
Posted on:
10 April 2008 - 1:08pm

Cant make out what the red stuff is in the Rice - cant be black raisins -
Posted on:
16 August 2007 - 10:41pm