»

Recipes

»

Cake

»

Yellow Chiffon Cake
Yellow Chiffon Cake Recipe
Yellow Chiffon Cake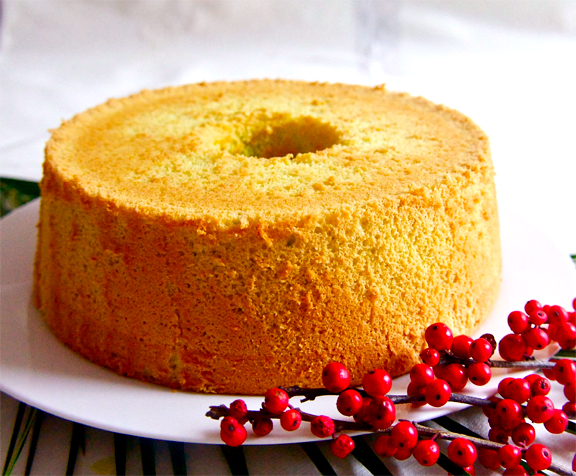 Ingredients
Sifted cake flour

2 1⁄4 Cup (36 tbs)

Sugar

1 1⁄2 Cup (24 tbs)

Double action baking powder

3 Teaspoon

Salt

1 Teaspoon

Cooking oil

1⁄2 Cup (8 tbs)

Egg yolks

5

Cold water

3⁄4 Cup (12 tbs)

Vanilla

2 Teaspoon

Lemon

1

, grated peel

Egg whites

8

Cream of tartar

1⁄2 Teaspoon
Nutrition Facts
Serving size: Complete recipe
Calories 3586 Calories from Fat 1208
% Daily Value*
Total Fat 136 g209.9%
Saturated Fat 23.7 g118.3%
Trans Fat 0 g
Cholesterol 925.4 mg
Sodium 3559.7 mg148.3%
Total Carbohydrates 536 g178.8%
Dietary Fiber 7.5 g30.2%
Sugars 303.9 g
Protein 61 g121.9%
Vitamin A 22% Vitamin C 74.4%
Calcium 130.3% Iron 139.3%
*Based on a 2000 Calorie diet
Directions
1. Heat the oven to Moderate, 325° F.
2. Sift the cake flour onto a large square of waxed paper. Measure the 2 1/4 cups, then sift it into a mixing bowl with the sugar, baking powder and salt. Make a well in the center and pour into it the oil, egg yolks, cold water, vanilla and lemon peel. Beat until smooth.
3. Put the egg whites into a large mixing bowl with the cream of tartar. Whip until the whites form very stiff peaks, stiffer than for angel food or meringue. Pour the egg yolk mixture gradually over the whites, gently folding with a rubber scraper just until the 2 mixtures are blended. Do not stir.
4. Pour into an ungreased 10-inch tube pan which is 4 inches deep. Bake 55 minutes, then increase the oven to Moderate, 350° F., for 10 to 15 minutes, or until the top of the cake springs back when lightly touched with the fingers.
5. Remove from the oven and immediately invert the pan, placing the tube over the neck of a funnel or bottle. Let the cake hang above the table so air can circulate around it until cold. Then loosen it from the sides of the pan with a spatula. Turn the pan over and hit the edge sharply on the table to loosen.