»

Recipes

»

Chicken

»

Yakisoba Chicken
Yakisoba Chicken Recipe
Japanese buckwheat flour noodles with chicken at their best!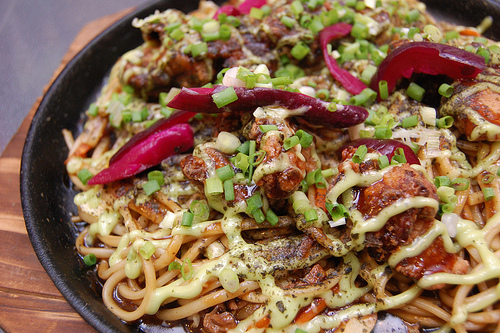 Ingredients
Sesame oil

1⁄2 Teaspoon

Canola oil

1 Tablespoon

Chile paste

2 Tablespoon

Garlic

2 Clove (10 gm)

, chopped

Skinless boneless chicken breast

4

, cut into 1 inch cubes

Soy sauce

1⁄2 Cup (8 tbs)

Onion/N

1

, lengthwise into eighths

Cabbage head

1⁄2 Medium

, coarsely chopped

Carrots

2

, coarsely chopped

Soba noodles

8 Ounce

(cooked)
Nutrition Facts
Serving size
Calories 491 Calories from Fat 65
% Daily Value*
Total Fat 7 g11.3%
Saturated Fat 1.1 g5.3%
Trans Fat 0.1 g
Cholesterol 99.8 mg
Sodium 2596.2 mg108.2%
Total Carbohydrates 57 g18.9%
Dietary Fiber 3.3 g13.2%
Sugars 5.5 g
Protein 52 g104%
Vitamin A 133.8% Vitamin C 50.9%
Calcium 9.2% Iron 21.6%
*Based on a 2000 Calorie diet
Directions
In a large skillet combine sesame oil, canola oil and chili paste. Stir fry 30 seconds. Add garlic and stir fry an additional 30 seconds. Add chicken and 1/4 cup of the soy sauce and stir fry until chicken is no longer pink. Remove mixture from pan, set aside and keep warm.

In the emptied pan combine the onion, cabbage and carrots. Stir fry until cabbage begins to wilt. Stir in the remaining soy sauce, cooked noodles and the chicken mixture to pan and mix to blend. Serve and enjoy!