»

Recipes

»

Roll

»

Egg Roll
Egg Roll Recipe
Homemade egg roll wrappers can be a real treat for the self-sufficient cook! Getting the wok to the correct temperature may be a challenge. If the batter sets before the wrapper is fully formed, the wok is too hot; if the edges are thin, it's too cool. Experiment and enjoy!"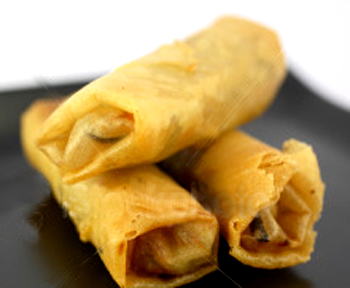 Ingredients
Egg

1

, beaten

Cold water

3⁄4 Cup (12 tbs)

Salt

1⁄4 Teaspoon

All purpose flour

7⁄8 Cup (14 tbs)

Peanut oil

2 Tablespoon
Nutrition Facts
Serving size
Calories 92 Calories from Fat 40
% Daily Value*
Total Fat 5 g6.9%
Saturated Fat 0.85 g4.2%
Trans Fat 0 g
Cholesterol 26.4 mg
Sodium 70.5 mg2.9%
Total Carbohydrates 10 g3.5%
Dietary Fiber 0.37 g1.5%
Sugars 0.1 g
Protein 2 g4.4%
Vitamin A 0.6% Vitamin C
Calcium 0.6% Iron 4.2%
*Based on a 2000 Calorie diet
Directions
In a medium bowl, whisk together egg, cold water and salt. Mix in all-purpose flour 1/3 at a time. Allow the mixture to stand 15 minutes at room temperature.
Heat a wok over high heat. Remove from heat and thinly coat with 1 tablespoon peanut oil. Reduce heat to low. While wok is still warm, pour 1/4 of the egg mixture in an approximately 8 inch circle. Rotate wok quickly to spread an even layer of batter. Cook over low heat 45 seconds to 1 minute, until bottom is golden brown and edges begin to curl. Carefully remove from heat and place on a paper towel, golden brown side down.
Repeat the wok procedure with remaining batter, 1/4 at a time. Rub wok with remaining tablespoon of peanut oil after the second wrapper has been made.
Allow the wrappers to cool completely. Cut wrappers in half to use for egg rolls.

Hey Lanette, really this is a Mouthwatering picture of egg roll. This recipe is also looking very simple and easy. It is one of the most delicious dish from Chinese Cuisine. In the era of Globalization, this dish also spread outside of China. In fact this dish is also very popular appetizer in India. I am also like this egg roll very much. Whenever I organize any party with my friends , it is included as appetizer in party menu. Thanks for posting this nice and delicious recipe of Egg Roll.
Posted on:
8 February 2008 - 11:12am