»

Recipes

»

Punch

»

Witch's Brew Won't Do New Year's Punch
Witch's Brew Won't Do New Year's Punch Recipe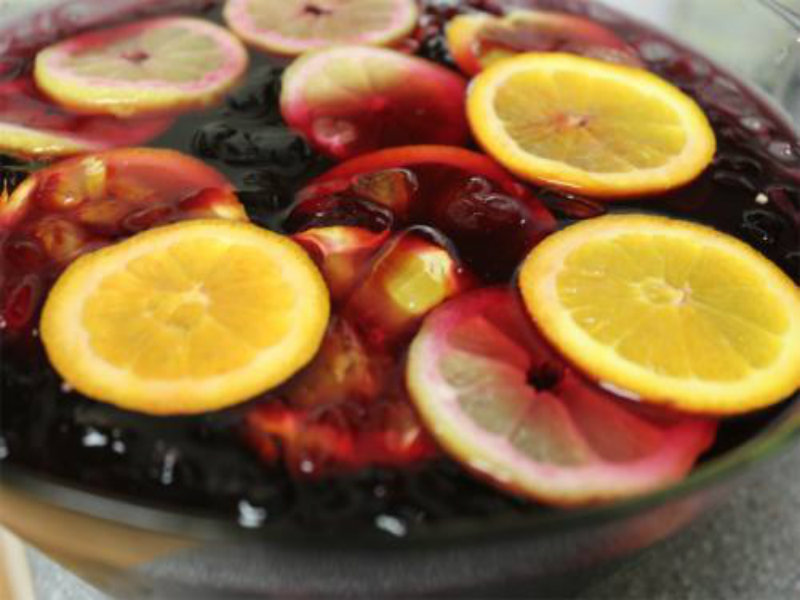 Summary
Preparation Time
5 Min
Cooking Time
10 Min
Ready In
15 Min
Difficulty Level
Very Easy
Health Index
Healthy
Servings
6
Ingredients
Canned sour cherry juice

1 Quart

Cinnamon stick

2 Inch

Whole cloves

3

Apple cider

1 Quart

Frozen orange juice concentrate

12 Ounce

(1 Can)

Water

1 Quart

Honey

1 Teaspoon

(For Sweetening)
Nutrition Facts
Serving size
Calories 297 Calories from Fat 0
% Daily Value*
Total Fat 0.01 g0.02%
Saturated Fat 0 g0.02%
Trans Fat 0 g
Cholesterol 0 mg
Sodium 9.5 mg0.4%
Total Carbohydrates 69 g22.8%
Dietary Fiber 0.59 g2.3%
Sugars 63.3 g
Protein 1 g2%
Vitamin A 0.1% Vitamin C 10.2%
Calcium 2.5% Iron 11.6%
*Based on a 2000 Calorie diet
Directions
GETTING READY
1) Cut few orange slices.
2) Arrange a punch bowl.

MAKING
3) In a saucepan, pour cherry juice and add cinnamon stick and cloves.
4) Cook on low heat for 10 minutes.
5) Allow the liquid to get cold.
6) In the punch bowl, pour the liquid and add apple cider.
7) Also add orange juice concentrate along with some ice cubes and water.
8) Add honey to make the punch sweet, if liked.
9) Garnish the drink with orange slice floating on the top.

SERVING
10) Serve the punch as dessert.