»

Recipes

»

Stuffing

»

Wild Rice Stuffing For Fowl
Wild Rice Stuffing For Fowl Recipe
This is a delicious Wild Rice Stuffing For Fowl which will keep your guests tempted for more! I prepare this dish as a Side Dish for several get-togethers and it's always a hit! Try it out yourself and let me know what you think.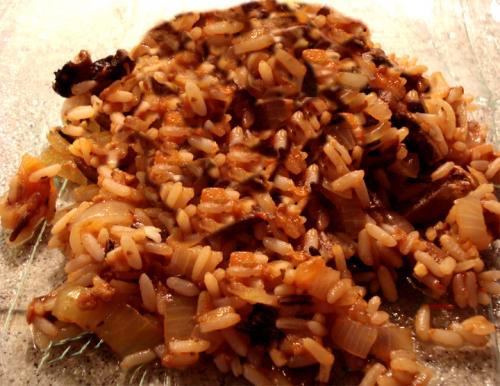 Ingredients
Mushrooms

1 Cup (16 tbs)

Butter

1 Tablespoon

Beef broth

1 Can (10 oz)

Onions

2

, chopped

Long grain rice

1 Cup (16 tbs)

Parsley

2 Tablespoon

, snipped
Nutrition Facts
Serving size
Calories 117 Calories from Fat 16
% Daily Value*
Total Fat 2 g2.8%
Saturated Fat 1.1 g5.3%
Trans Fat 0 g
Cholesterol 4 mg
Sodium 120 mg5%
Total Carbohydrates 22 g7.4%
Dietary Fiber 0.83 g3.3%
Sugars 1.7 g
Protein 3 g5.6%
Vitamin A 7.3% Vitamin C 13%
Calcium 1.8% Iron 3.4%
*Based on a 2000 Calorie diet
Directions
MAKING
1) Drain the mushrooms, reserving the liquid.
2) In a skillet, heat butter.
3) Add in the mushrooms and allow to broil.
4) In a bowl, combine the reserved mushroom liquid and beef broth.
5) Add in enough water to bring the total liquid quantity to 2 cups.
6) In a saucepan, add the liquid and onions and bring to boiling point.
7) Add in the wild rice.
8) Lower the heat.
9) Place a lid over and allow to simmer for 20 minutes.
10) Add in the long grain rice.
11) Return to boiling point.
12) Place a lid over and allow to simmer for 20 minutes, till the rice is done.
13) Add in the mushrooms and 2 tablespoons butter.
14) Briefly heat.
15) Stir in the parsley.

SERVING
16) Serve hot.