»

Recipes

»

Wild Rice-Pecan Patties
Wild Rice-Pecan Patties Recipe
You won't need much time to prepare these elegant rice patties. The combination of wild rice, pecans and mushrooms is outstanding!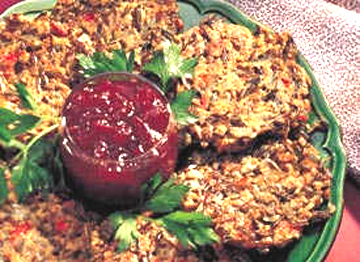 Ingredients
Cooked wild rice

2 Cup (32 tbs)

Soft bread crumbs

1 Cup (16 tbs)

(1 1/2 slices)

Chopped pecans

1⁄3 Cup (5.33 tbs)

Garlic salt

1⁄2 Teaspoon

Eggs

2

Mushroom pieces and stems

2 1⁄2 Ounce

, finely chopped (drained)

Diced pimientos

2 Ounce

Vegetable oil

2 Tablespoon
Nutrition Facts
Serving size
Calories 325 Calories from Fat 149
% Daily Value*
Total Fat 17 g26.5%
Saturated Fat 2.4 g12.1%
Trans Fat 0 g
Cholesterol 105.7 mg
Sodium 439 mg18.3%
Total Carbohydrates 34 g11.4%
Dietary Fiber 5.8 g23.3%
Sugars 1.7 g
Protein 10 g19.5%
Vitamin A 4.4% Vitamin C 10.6%
Calcium 3.9% Iron 7.4%
*Based on a 2000 Calorie diet
Directions
1. Mix all ingredients except oil.
2. Heat oil in 10-inch skillet over medium heat. Scoop wild rice mixture by 1/3 cupfuls into skillet; flatten to 1/2 inch. Cook about 6 minutes, turning once, until light brown. Remove patties from skillet. Cover and keep warm while cooking remaining patties.

Thanks for posting this, Orelia! Would be a great stuffing for a winter squash... ;) "The craft of questions, the craft of stories, the craft of the hands - all these are the making of something, and that something is soul. Anytime we feed soul, it guarantees increase." -- Clarissa Pinkola Estes, Ph.D.
Posted on:
19 October 2008 - 10:44pm