»

Recipes

»

Rabbit

»

Wild Rabbits
Wild Rabbits Recipe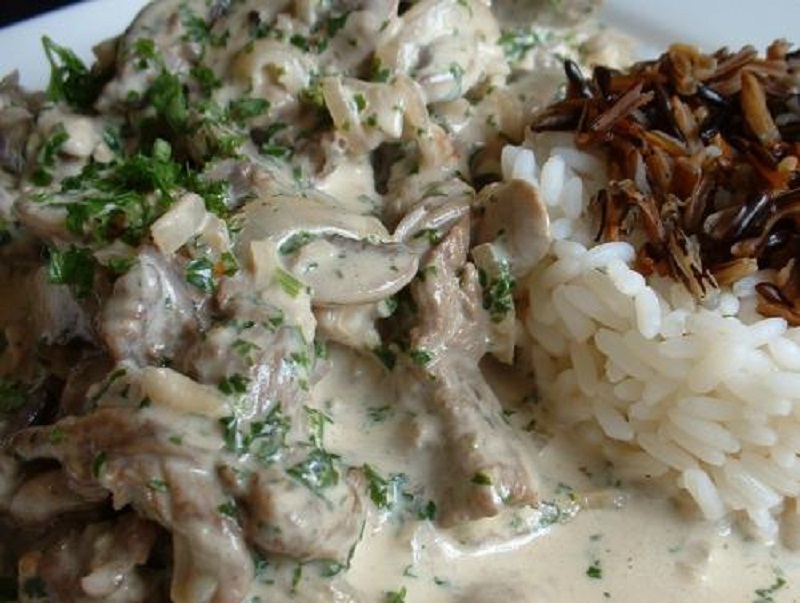 Ingredients
Rabbits -€" 2 (1 to 1 1/2 pounds each)

Water

3 Cup (16 tbs)

Vinegar

1 Cup (16 tbs)

Salt

2 Tablespoon

Pepper

1 Teaspoon

Mixed spice

3 Tablespoon

Bermuda onion -€" 1, sliced

Carrot

1

Bacon Slices

3

, diced

Butter/Margarine

2 Tablespoon

Sugar

1 Tablespoon

All-purpose flour -€" 3 tablespoons

Gingersnaps -€" 3

Dairy sour cream

1/2 Cup (16 tbs)
Directions
MAKING
1) Clean rabbits removing excess skin and cut into 4 to 6 pieces.
2) Wash well several times and dry on paper towels.
3) Marinade the rabbits in a mix of water, vinegar, salt, pepper, spices, onion, and carrot
4) Refrigerate for 2 or 3 days.
5) When ready to cook, remove rabbit from marinade and tap dry on paper towels.
6) Strain the marinade and reserve.
7) In a Dutch oven (or a skillet with a lid), brown bacon in the butter.
8) Add the rabbit and cook till well browned.
9) Cover and simmer for 1 hour.
10) Add sugar and allow to caramelize.
11) Add the flour, 2 cups of the marinade, and gingersnaps and simmer for 20 minutes.
12) Add in the sour cream and simmer for another 10 minutes.

SERVING
13) Serve hot on a bed of rice.