»

Recipes

»

Pasta

»

Rigatoni

»

Whole Wheat Rigatoni With Roasted Vegetables
Whole Wheat Rigatoni with Roasted Vegetables Recipe
The Good News Tossed with sweet acorn squash and roasted tomatoes, this whole wheat pasta from Eric Chopin is packed with fiber and vitamins A and C. Olives and toasted pine nuts add heart-healthy fats.
Picture Credit: Kana Okada
Recipe By: Eric Chopin
Pairing Notes: Fragrant Pinot Noir from New Zealand.
For more recipes, please visit Foodandwine.com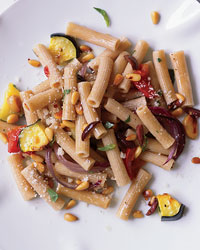 Ingredients
Acorn squash

1 1⁄2 Pound

, scrubbed cut crosswise into 1/3-inch-thick rings, seeds discarded

Red onion

1 Small

, sliced 1/4 inch thick

Extra virgin olive oil

1⁄4 Cup (4 tbs)

Salt

To Taste

Freshly ground pepper

To Taste

Plum tomatoes

6 Large

, halved and cored

Unpeeled garlic

12 Clove (60 gm)

Whole wheat rigatoni

1⁄2 Pound

Pine nuts

2 Tablespoon

Crushed red pepper

1⁄4 Teaspoon

Kalamata olives

4

, pitted and sliced

Thinly sliced basil leaves

1⁄4 Cup (4 tbs)

Chopped parsley

2 Tablespoon

Freshly grated pecorino cheese

2 Tablespoon
Nutrition Facts
Serving size
Calories 541 Calories from Fat 234
% Daily Value*
Total Fat 26 g39.8%
Saturated Fat 3 g15%
Trans Fat 0 g
Cholesterol 9.7 mg
Sodium 385.2 mg16.1%
Total Carbohydrates 75 g24.8%
Dietary Fiber 11.6 g46.5%
Sugars 1.2 g
Protein 15 g30.8%
Vitamin A 50.5% Vitamin C 85.2%
Calcium 22.1% Iron 24.9%
*Based on a 2000 Calorie diet
Directions
1. Preheat the oven to 350°. On a large rimmed baking sheet, toss the squash and onion with 1 tablespoon of the oil; season with salt and pepper and spread in a single layer. Drizzle 2 tablespoons of the oil on another large rimmed baking sheet; add the tomato halves and garlic and roll to coat with oil. Season the tomatoes with salt and pepper and turn them cut side down.
2. Transfer both sheets to the oven. Roast for about 40 minutes, until tender. Using tongs, transfer the garlic to a bowl; continue roasting the tomatoes for about 20 minutes longer, until very soft. Roast the squash and onion for about 45 minutes total, until tender and golden brown. Cut the squash into bite-size pieces. Discard the tomato skins and coarsely chop the flesh. Squeeze the garlic out of the skins.
3. In a pot of boiling salted water, cook the pasta until al dente. Drain, reserving 1/2 cup of the water. Return the pasta to the pot.
4. Meanwhile, in a skillet, heat the remaining 1 tablespoon of oil. Add the pine nuts and toast over moderate heat until golden. Add the crushed red pepper and olives and cook for 1 minute. Add the vegetables and stir over moderately high heat until heated through, about 2 minutes. Season with salt and pepper and scrape into the pasta; add the reserved cooking water, basil and parsley and toss. Serve the pasta in bowls, topping each with 1/2 tablespoon of the pecorino.

NOTES
One Serving 496 cal, 69 gm carb, 21 gm fat, 3.1 gm sat fat, 14 gm protein, 12 gm fiber.