»

Recipes

»

French

»

Crepe

»

Whole Wheat Crepes
Whole Wheat Crepes Recipe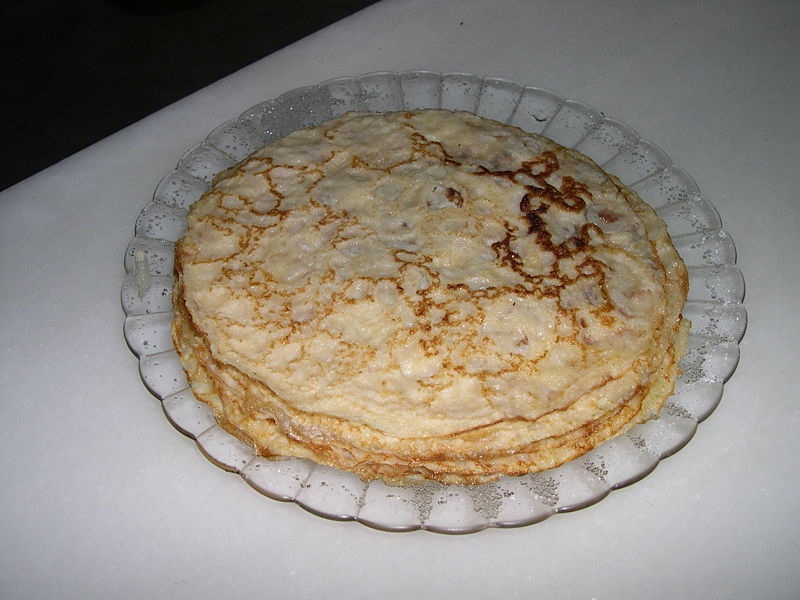 Ingredients
Whole wheat flour

1 Cup (16 tbs)

Eggs

2

Milk

1⁄2 Cup (8 tbs)

Water

1⁄2 Cup (8 tbs)

Salt

1⁄4 Teaspoon

Butter

2 Tablespoon

, melted
Nutrition Facts
Serving size: Complete recipe
Calories 867 Calories from Fat 357
% Daily Value*
Total Fat 40 g62.1%
Saturated Fat 21 g105.2%
Trans Fat 0 g
Cholesterol 498.8 mg
Sodium 679.5 mg28.3%
Total Carbohydrates 101 g33.7%
Dietary Fiber 15.9 g63.4%
Sugars 7.3 g
Protein 34 g68.6%
Vitamin A 27.3% Vitamin C
Calcium 23.2% Iron 38.4%
*Based on a 2000 Calorie diet
Directions
GETTING READY
1) Blend all the ingredients in the container of electric blender for 30 seconds.
2) Using a rubber spatula, scrape down sides of container and blend again for 30 additional seconds until the batter becomes smooth.
3) Allow to refrigerate this for at least 1 hour. (Flour particles would be swollen and softened which would in turn help the crepes to be light in texture.)

MAKING
4) Take a 6- or 7-inch crepe pan or heavy skillet and brush the bottom of it with salad oil.
5) Place the greased skillet over medium heat until just hot, but not allowing smoking.
6) Into the pan, spoon 2 tablespoons of batter and quickly turn it in all directions so batter forms a thin film on the pan.
7) Cook the crepe for about 1 minute and test for done-ness after lifting the edge of it.
8) When the crepe can be shaken loose from pan, toss it and cook for about 30 seconds on other side and remove from the pan.
9) Prepare more crepes in the same way until all batter is used.
10) To prevent sticking, stack them between layers of waxed paper.

SERVING
11) Use as required.
Image Courtesy :
http://en.wikipedia.org/wiki/File:Frixuelos-fayuelos.jpg