»

Recipes

»

Brownie

»

White Candy Brownies
White Candy Brownies Recipe
White chocolate candies ring the edge of this incredibly delicious, showstopping finale! You're sure to get a smooch from anyone who tries it!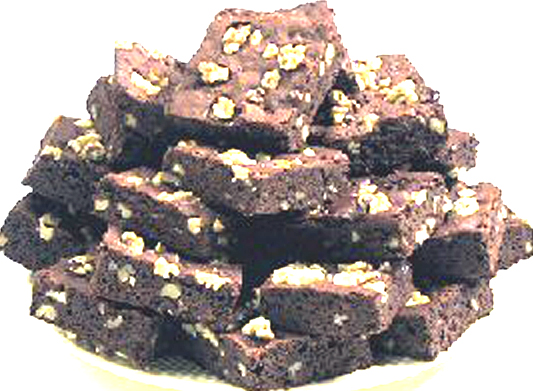 Ingredients
Fudge brownie mix

1 Pound

Water

1⁄4 Cup (4 tbs)

Vegetable oil

1⁄2 Cup (8 tbs)

Eggs

2

White baking chips

1 1⁄4 Cup (20 tbs)

Hugs chocolates

24

(Unwrapped)

Shortening

1 1⁄2 Teaspoon
Nutrition Facts
Serving size
Calories 396 Calories from Fat 153
% Daily Value*
Total Fat 20 g30.6%
Saturated Fat 7.4 g37.2%
Trans Fat 0.1 g
Cholesterol 37.5 mg
Sodium 206.6 mg8.6%
Total Carbohydrates 50 g16.8%
Dietary Fiber 1.1 g4.4%
Sugars 38.8 g
Protein 5 g9.2%
Vitamin A 0.8% Vitamin C
Calcium 3.3% Iron 8.9%
*Based on a 2000 Calorie diet
Directions
1. Heat oven to 350ºF. Grease bottom only of springform pan, 9x3 inches. Stir brownie mix (dry), water, oil, eggs and 1 cup of the white baking chips in medium bowl about 50 strokes with spoon or until well blended. Spread in pan.
2. Bake 35 to 40 minutes or until toothpick inserted 2 inches from side of pan comes out clean or almost clean. Immediately place chocolates around edge of brownie. Cool completely. Remove side of pan.
3. Place remaining 1/4 cup white baking chips and the shortening in resealable plastic sandwich bag; seal. Microwave on High about 30 seconds or until chips are melted. Knead chips until smooth. Cut small corner from bag. Drizzle melted chips over top of brownie. Cut into wedges.