»

Recipes

»

Bread
White Bread Recipe
White Bread is a mouth watering recipe. I am sure this tasty and irresistible White Bread dish will get you a lot of compliments!
White Bread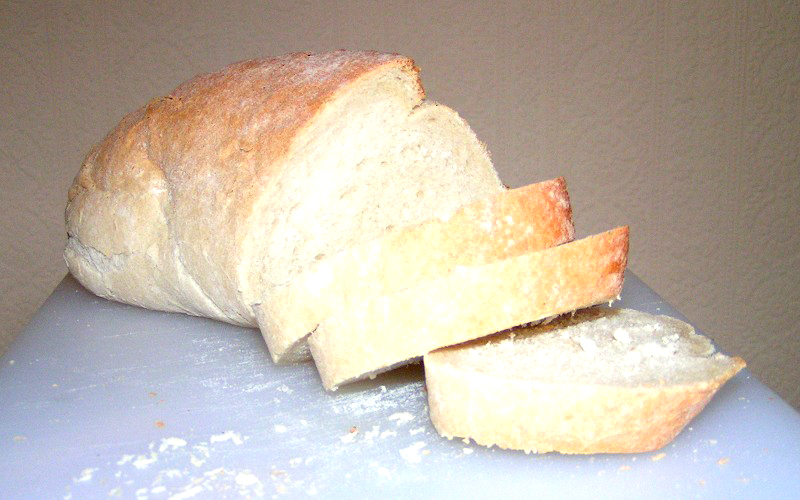 Ingredients
Milk

1 Cup (16 tbs)

Hot water

1 Cup (16 tbs)

Crisco

1 Tablespoon

Butter

1 Tablespoon

Sugar

2 Tablespoon

Salt

2 Teaspoon

Yeast package

1

Warm water

1/4 Cup (16 tbs)

4 cups flour- extra for kneading
Directions
Scald milk, add water, and pour over shortening and sugar.
Dissolve yeast in the 1/4 cup warm water (10 minutes).
Combine with milk mixture when it's lukewarm.
Stir in 2 cups flour, adding salt at this time.
Beat until smooth, then add remaining flour.
Knead on a floured board until smooth and elastic.
Butter a bowl, roll the dough so top will be buttery.
Cover with a cloth; set in a warm place (slightly warmed oven is good) and let rise till doubled .
Remove to board; divide in half (keeping buttery side up), shape into 2 loaves and let rest, covered, for about 10 minutes.
Place in greased loaf pans, return to warm place and let rise until doubled .
Bake at 400 degrees for 15 minutes, reduce heat to 350° and bake another 25 minutes or less.
Remove to cool on wire rack.