»

Recipes

»

Wine

»

White Wine Thyme Sauce On Chicken
White Wine Thyme Sauce on Chicken Recipe
This is another great sauce you can use for chicken or fish. This recipe uses chicken, but you can always substitute fish instead. Just make sure to add thickening agent to the sauce to account for the lack of flour.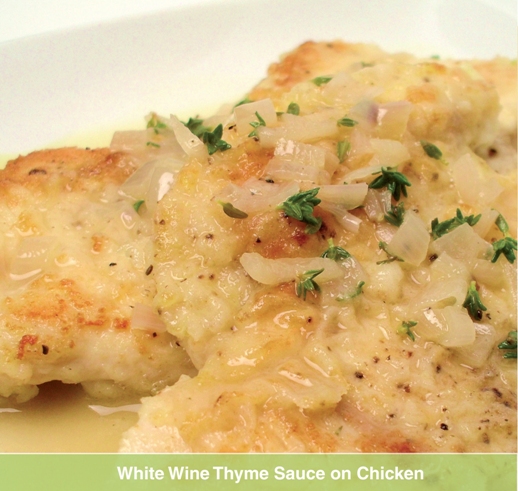 Ingredients
2 boneless, skinless chicken breasts, hormone- and antibiotic-free, cut in half lengthwise (butterflied)

Sea salt

1 To taste

Cracked black pepper

1 To taste

All-purpose flour for dredging

Extra virgin olive oil

3 Teaspoon

Shallots

3 1/2 Tablespoon

, diced

White wine

1/2 Cup (16 tbs)

Cracked black pepper

1/2 Teaspoon

3/4 cup gluten-free chicken broth

Thyme leaves

1 1/2 Teaspoon

, minced

Butter

2 Tablespoon

Dijon Mustard

1/2 Teaspoon
Directions
Season chicken with salt and pepper to taste. Dredge in flour, shaking off excess. Heat 2 tablespoons olive oil in large skillet over medium-high heat. When oil is sizzling hot, add chicken and cook for 4-5 minutes until golden brown. Turn chicken over and cook the other side for 4-5 minutes, or until the chicken is thoroughly cooked. Transfer browned chicken to a plate and cover.
Remove pan from heat, and turn heat to low. Add 1 teaspoon olive oil to pan. Add shallots and cook over low heat until shallots are translucent. Add white wine, pepper and chicken broth to pan. Simmer over medium-high heat until reduced by half. Whisk in thyme leaves, butter and Dijon mustard. Adjust seasoning.
Reintroduce chicken to pan to warm, or pour sauce over chicken and serve.
Fun Tip: My husband prefers the taste of fresh thyme more than cooked thyme; however, you can easily add thyme earlier in the cooking process for a more robust flavor. When you're making the White Wine Thyme Sauce on Chicken recipe, just add fresh thyme leaves to the pan along with the white wine, pepper and chicken broth, instead of whisking it in later with butter and Dijon mustard.
About Christianne Klein:
Christianne Klein is an Edward R. Murrow award-winning journalist, author, television host and former national news anchor for ABC News. She has appeared on numerous television programs, cooking her favorite healthy recipes, and also worked alongside Chef Emeril Lagasse on an episode of his show "Emeril Green". Known for growing and cooking with her own fresh herbs, Christianne has compiled her favorite recipes, information and beauty tips into one amazing cookbook,
Christianne's Herbal Kitchen: Fresh Herb Recipes for Body and Soul
. Christianne is the founder of
Truth Fairy TV
, a website devoted to health, beauty and inspiration.
For more information or to order a copy of Christianne's Herbal Kitchen, go to
TheHerbCookbook.com.