»

Recipes

»

Popsicle

»

Watermelon Jalapeno Popsicle
Watermelon Jalapeno Popsicle Recipe
Love sweet and spicy? These watermelon, tomato and jalapeño popsicles are just what you need for a warm summer day. They are refreshing and just slightly spicy and simple to make.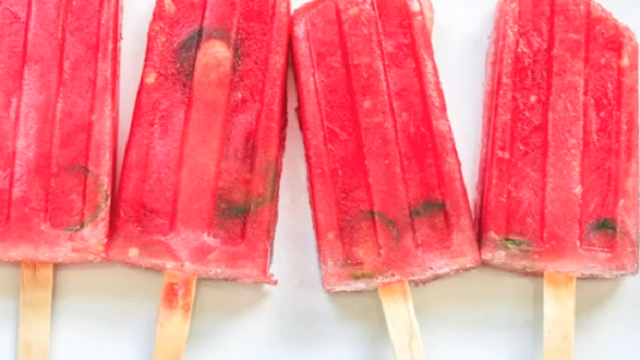 Summary
Preparation Time
3 Hr 20 Min
Difficulty Level
Easy
Health Index
Healthy
Servings
4
Ingredients
Watermelon

3 Cup (48 tbs)

, cut into 1 inch chunks

Tomatoes

2 Medium

, peeled (organic)

Jalapenos

3

, thickly sliced
Nutrition Facts
Serving size
Calories 50 Calories from Fat 3
% Daily Value*
Total Fat 0.37 g0.57%
Saturated Fat 0.04 g0.22%
Trans Fat 0 g
Cholesterol 0 mg
Sodium 4.4 mg0.2%
Total Carbohydrates 12 g4.1%
Dietary Fiber 1.5 g6.1%
Sugars 9.4 g
Protein 1 g2.8%
Vitamin A 25.6% Vitamin C 37%
Calcium 1.6% Iron 2.9%
*Based on a 2000 Calorie diet
Directions
GETTING READY
1. Peel the tomatoes and use them only. Discard the inside pulp and seeds.
MAKING
2. In a food processor, throw in the watermelon cubes and the peeled tomatoes and pulse them until smooth.
3. Strain the juice.
4. Throw in the thickly cut jalapeno slices.
5. Refrigerate for 1 hour to allow the flavors to mingle.
6. Pour in popsicle molds, insert the stick and freeze for 2 hours or until popsicle is formed.
SERVING
7. Unmold and serve.
Recipe Courtesy of:
cookingstoned.tv