»

Recipes

»

Salad

»

Warm Spaghetti-Squash Salad
Warm Spaghetti-Squash Salad Recipe
Mild spaghetti squash is delicious with potent ingredients like the olives and feta in this lemony salad, which makes a wonderful starter or side dish.
Picture Credit: John Kernick
Recipe By: Grace Parisi
For more recipes, please visit Foodandwine.com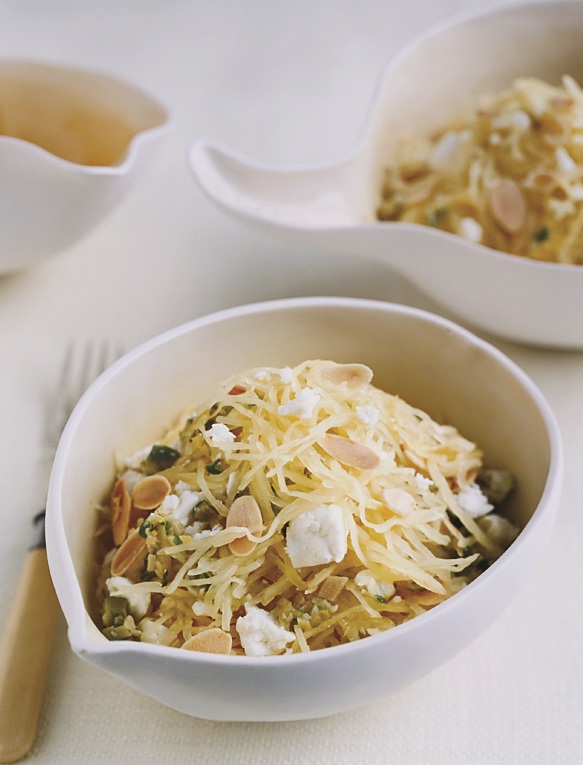 Summary
Health Index
Healthy
Servings
8
Ingredients
Spaghetti squash

4 Pound

, halved lengthwise and seeds scraped

Sliced almonds

3 Ounce

(1 Cup)

Chopped pitted green olives

1⁄2 Cup (8 tbs)

(Such As Cerignola)

Scallion whites

1⁄2 Cup (8 tbs)

, sliced

Finely grated lemon zest

1⁄2 Teaspoon

Fresh lemon juice

3 Tablespoon

Canola oil

6 Tablespoon

(1/4 Cup Plus 2 Tablespoons)

Greek feta cheese

2 Ounce

, crumbled to make 1/4 cup

Kosher salt

To Taste

Ground pepper

To Taste
Nutrition Facts
Serving size
Calories 269 Calories from Fat 178
% Daily Value*
Total Fat 21 g31.6%
Saturated Fat 2.3 g11.7%
Trans Fat 0 g
Cholesterol 2.5 mg
Sodium 356.1 mg14.8%
Total Carbohydrates 20 g6.8%
Dietary Fiber 2.1 g8.6%
Sugars 1 g
Protein 5 g10.8%
Vitamin A 7.2% Vitamin C 17.7%
Calcium 11.3% Iron 7.9%
*Based on a 2000 Calorie diet
Directions
1. Preheat the oven to 350°. Bring a large pot of water to a boil. Add the spaghetti squash and cook until it is al dente, about 12 minutes; drain. Place the spaghetti squash halves cut side down on a rack and let cool for 15 minutes.
2. Meanwhile, spread the sliced almonds on a pie plate and toast them in the oven for about 7 minutes, until lightly golden. In a mini food processor, combine the chopped olives with the sliced scallions, lemon zest, lemon juice and canola oil and pulse until finely chopped.
3. Working over a medium bowl and using a fork, scrape the spaghetti squash into the bowl, separating the strands. Add the dressing along with the crumbled feta and toasted almonds and season with salt and white pepper. Toss the spaghetti squash salad and serve warm.

NOTES:
One Serving 238 cal, 19 gm fat, 2.5 gm sat fat, 16 gm carb, 4.4 gm fiber.