»

Recipes

»

Salad

»

Warm Pork Salad With Watercress And Cashews
Warm Pork Salad With Watercress And Cashews Recipe
Watercress Cashew Salad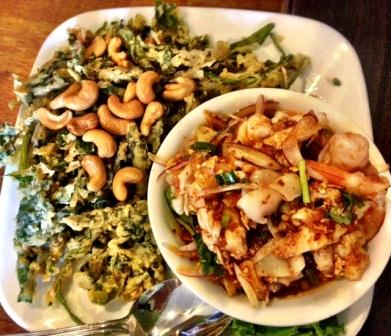 Ingredients
Watercress

1 Bunch (100 gm)

, washed and dried

Spinach

1 Liter

, washed, dried and torn into pieces (Use 4 Cups)

Red pepper

125 Milliliter

, julienned (1/2 Cup)

Vegetable oil

50 Milliliter

(1/4 Cup)

Trimmed pork tenderloin/Pork loin

1 Pound

, sliced in thin strips (500 Gram)

Garlic

1 Clove (5 gm)

, minced

Fresh lemon juice

45 Milliliter

(3 Tablespoon)

Honey

15 Milliliter

(1 Tablespoon)

Dijon mustard

1 Teaspoon

Salt

1⁄2 Teaspoon

Freshly ground pepper

1⁄4 Teaspoon

(Or 1 Jill)

Cashews

250 Milliliter

(Or 1 Cup)
Nutrition Facts
Serving size
Calories 443 Calories from Fat 249
% Daily Value*
Total Fat 29 g44.8%
Saturated Fat 5.1 g25.6%
Trans Fat 0 g
Cholesterol 30 mg
Sodium 346.3 mg14.4%
Total Carbohydrates 24 g8.1%
Dietary Fiber 5.7 g22.8%
Sugars 6.3 g
Protein 28 g56.9%
Vitamin A 336.3% Vitamin C 141%
Calcium 20.5% Iron 41.7%
*Based on a 2000 Calorie diet
Directions
Toss Watercress, spinach and red pepper togetheir; divide evenly on 4 dinner plates frypan, heat 2 tablespoons of oil; saute porkahd garlic just until pork is no longer pink.
Add remaining oil and other ingredients except hazelnuts.
Stir to combine and heat.
Taste; adjust seasonings.
Divide pork evenly among salad plates.
Drizzle dressing over salad.
Sprinkle with nuts.
Serve immediately with crusty bread.