»

Recipes

»

Walnut

»

Walnut Barquettes
Walnut Barquettes Recipe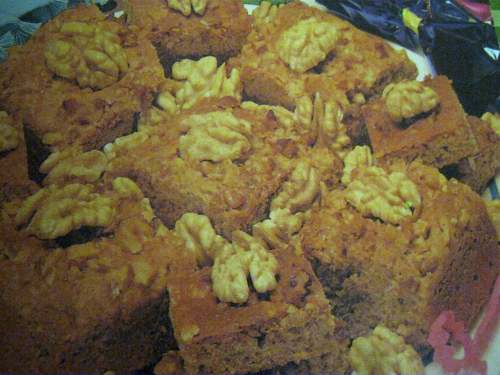 Ingredients
Soft margarine/Soft butter

3⁄4 Cup (12 tbs)

Fruit sugar

1⁄2 Cup (8 tbs)

Egg

1

Vanilla

1⁄2 Teaspoon

All purpose flour

1 1⁄2 Cup (24 tbs)

For walnut filling:

Soft margarine

1⁄4 Cup (4 tbs)

Flour

1 Tablespoon

Brown sugar

1⁄3 Cup (5.33 tbs)

Ground walnuts/Finely chopped walnuts 

1⁄2 Cup (8 tbs)

Orange butter icing

3⁄4 Cup (12 tbs)

Tinted desiccated coconut

1 Ounce
Nutrition Facts
Serving size: Complete recipe
Calories 4870 Calories from Fat 2480
% Daily Value*
Total Fat 275 g422.3%
Saturated Fat 46.4 g232.1%
Trans Fat 0.7 g
Cholesterol 211.5 mg
Sodium 2273.2 mg94.7%
Total Carbohydrates 568 g189.3%
Dietary Fiber 13.4 g53.8%
Sugars 281.5 g
Protein 38 g75.3%
Vitamin A 5.1% Vitamin C 1.8%
Calcium 11.4% Iron 70.9%
*Based on a 2000 Calorie diet
Directions
Beat the first four ingredients together and stir in the flour.
Line fluted barque tins (tiny boat-shaped pans used for pastry-based appetizers and small cakes) or small tart tins about 1 1/4 inches bottom diameter with 2 level teaspoons of the dough.
Spread the depressions with about a teaspoon Walnut Filling.
Bake at 350F for 18 to 20 minutes.
Cool and tap out of the pans.
Spread each with icing and dredge edges with tinted coconut.
walnut filling: Beat 1/4 cup soft margarine, 1 tablespoon flour, 1/3 cup brown sugar, 1 egg and 1/2 teaspoon vanilla together until fluffy.
Stir in 1/2 cup ground or finely chopped walnuts.