»

Recipes

»

Salad

»

Waldorf Chicken Salad
Waldorf Chicken Salad Recipe
This Waldorf Chicken Salad recipe is my favorite and also liked by my family. Waldorf Chicken Salad is not only tasty but also very nutritious. So if you have good taste and also care about your health , you must try this Waldorf Chicken Salad recipe.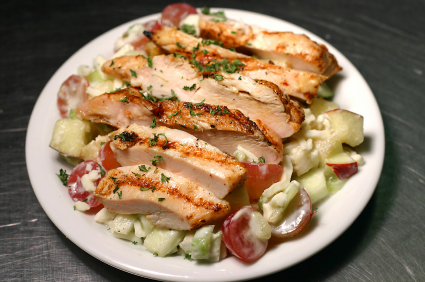 Ingredients
Salt

To Taste

Apples

3 Cup (48 tbs)

, unpeeled

Chicken

6 Cup (96 tbs)

, poached

Pepper

To Taste

Celery

2 Cup (32 tbs)

Apples

3 Cup (48 tbs)

, diced (cored nut unpeeled)

Poached chicken

Walnuts

1 1⁄2 Cup (24 tbs)

Blue cheese

6 Ounce

Heavy cream

1⁄2 Cup (8 tbs)

Mayonnaise

2 Cup (32 tbs)
Nutrition Facts
Serving size
Calories 2116 Calories from Fat 1552
% Daily Value*
Total Fat 175 g268.7%
Saturated Fat 36.5 g182.4%
Trans Fat 0 g
Cholesterol 392.8 mg
Sodium 1500.1 mg62.5%
Total Carbohydrates 49 g16.5%
Dietary Fiber 10.5 g42%
Sugars 32.7 g
Protein 90 g179.1%
Vitamin A 31.1% Vitamin C 26.6%
Calcium 36.2% Iron 25.3%
*Based on a 2000 Calorie diet
Directions
Step1-Combine apples, chicken, celery, and walnuts.

Step2-In blender or food processor, mix cheese, heavy cream and mayonnaise until smooth and creamy.

Step3-Fold into chicken mixture until well blended. Season to taste.

The salad looks appetizing but how can 1/2 c of heavy cream and 2 c of mayonnaise make it healthy!?!.
Posted on:
1 February 2008 - 5:15pm

Delicious picture of Waldorf Chicken Salad and recipe is also so coooool!
Posted on:
1 February 2008 - 2:26pm

Really a great recipe of Waldorf Chicken Salad and picture is also looking so yummy.This Recipe is delicious and healthy . Salad will be always included in daily lunch or dinner menu.This Waldorf Chicken Salad would be a better option.I will try this delicious Waldorf Chicken Salad Recipe very soon. Thanks for posting this Waldorf Chicken Salad Recipe !
Posted on:
1 February 2008 - 11:20am