»

Recipes

»

Waffle

»

Waffles From Staphorst
Waffles From Staphorst Recipe
Waffles From Staphorst is a very easy to prepare delicious snack recipe. Enjoy this amazingly delicious mouth watering Waffles From Staphorst; I am sure you would love to share your experience with me.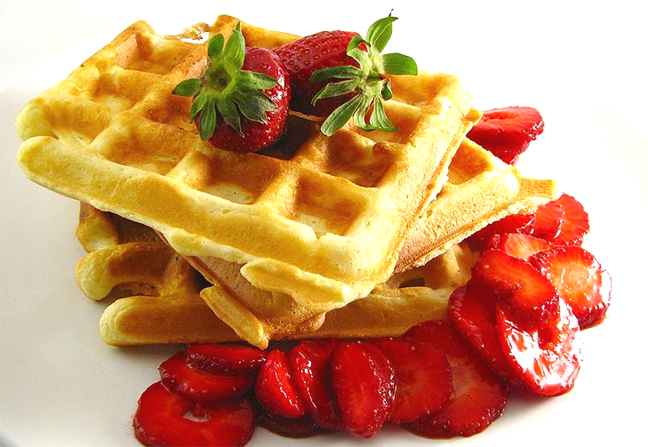 Ingredients
Rye flour

1 Cup (16 tbs)

White flour

1 Cup (16 tbs)

Brown sugar

1⁄4 Cup (4 tbs)

Anise powder

1⁄2 Teaspoon

Melted butter

1⁄2 Cup (8 tbs)

(1 Stick)

Molasses

1⁄2 Cup (8 tbs)

Eggs

4

, lightly beaten

Water

1 Cup (16 tbs)
Nutrition Facts
Serving size: Complete recipe
Calories 2530 Calories from Fat 987
% Daily Value*
Total Fat 112 g172.3%
Saturated Fat 62.2 g311.1%
Trans Fat 0 g
Cholesterol 1078.1 mg
Sodium 358.1 mg14.9%
Total Carbohydrates 344 g114.8%
Dietary Fiber 26.8 g107.2%
Sugars 146.5 g
Protein 54 g107.5%
Vitamin A 73.8% Vitamin C 0.88%
Calcium 56.9% Iron 138.5%
*Based on a 2000 Calorie diet
Directions
Combine the rye and white flour, brown sugar and anise.
In a large bowl, mix the butter molasses, eggs and water.
Add the flour mixture and stir with a wire whisk until thoroughly combined.
Bake the waffles in a hot waffle iron for about 7 minutes or until brown.
They will be soft rather than crisp.
If not eaten immediately, they may be stored in a tightly closed container and reheated in a 250° oven for about 5 minutes.