»

Recipes

»

Waffle
Waffle Recipe
Simple and easy to make waffles to kickstart your day. This is a traditional Belgian waffle that makes a lovely breakfast food. This is one of my favorite recipes, do try it and let me know how it turned out for you.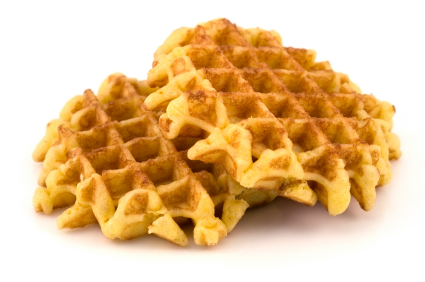 Ingredients
Flour

2 Cup (32 tbs)

Salt

1 Teaspoon

Eggs

4 Small

, separated

Butter

1⁄2 Cup (8 tbs)

Vanilla extract

1 Teaspoon

Milk

2 Cup (32 tbs)
Nutrition Facts
Serving size: Complete recipe
Calories 2220 Calories from Fat 1091
% Daily Value*
Total Fat 123 g190%
Saturated Fat 71.3 g356.6%
Trans Fat 0 g
Cholesterol 930 mg
Sodium 2349.3 mg97.9%
Total Carbohydrates 216 g72.1%
Dietary Fiber 6.8 g27%
Sugars 26.3 g
Protein 60 g120.9%
Vitamin A 80.3% Vitamin C
Calcium 65.8% Iron 80.9%
*Based on a 2000 Calorie diet
Directions
Begin with mixing flour & salt & keep it aside.In a bowl beat egg white with an egg beater till it becomes fluffy.In another bowl,beat egg yellow,till it thickens,add vanilla to it & also butter(melt the butter before you add it to egg yellow).Alternately add milk & flour to the egg yellow mix,slowly pour in the egg white mixture to egg yellow mixture.
Preheat the waffle iron,pour over the batter on the iron,bake it till it becomes brown in color.

SandyB3 says :
This recipe is almost like mine which makes excellent waffles that don't stick to my waffle maker that is not coated with a non-stick surface. Anybody selling a working Vitantonio Belgian waffle maker without a non-stick surface, my daughter is looking for one. Thanks!
Posted on:
20 March 2010 - 2:01am