»

Recipes

»

Canadian

»

Victoria
Victoria Sponge Recipe
Vanilla Sponge Cake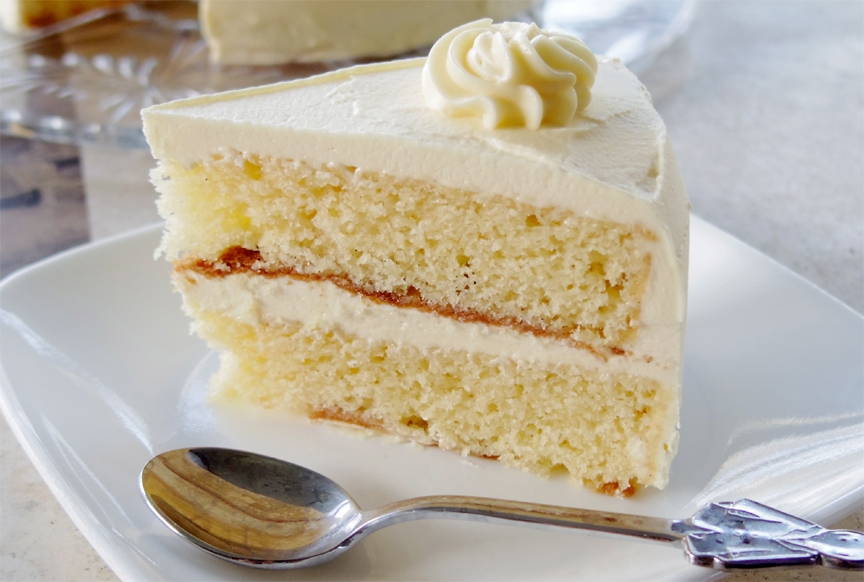 Ingredients
Unsalted butter

9 Ounce

, softened (250 Gram)

Caster sugar

9 Ounce

(250 Gram)

Eggs

5 Medium

Vanilla extract

1 Teaspoon

Self rising flour

9 Ounce

, sifted (250 Gram)

Icing sugar

1 Tablespoon

Unsalted butter

4 Ounce

, softened (100 Gram)

Icing sugar

9 Ounce

(250 Gram)

Vanilla extract

1⁄2 Teaspoon

Ground cinnamon

1 Teaspoon

Raspberry jam

1 Tablespoon
Nutrition Facts
Serving size
Calories 995 Calories from Fat 471
% Daily Value*
Total Fat 54 g82.3%
Saturated Fat 32.7 g163.5%
Trans Fat 0 g
Cholesterol 287.2 mg
Sodium 625.7 mg26.1%
Total Carbohydrates 121 g40.5%
Dietary Fiber 0.44 g1.8%
Sugars 88.6 g
Protein 8 g16%
Vitamin A 34.3% Vitamin C 0.05%
Calcium 12.8% Iron 12.1%
*Based on a 2000 Calorie diet
Directions
GETTING READY
1. Preheat oven to 180C/fan 160C/gas.
2. Grease two 23cm square spring form or loose-bottomed cake tins with butter and line them with baking parchment or silicon paper. Keep aside.

MAKING
3. In a food mixer or a bowl, cream together the butter and sugar, beating until pale and fluffy.
4. Add the eggs one at a time and beat until well incorporated into the creamed mixture, adding a little flour if it begins to curdle.
5. Stir in the vanilla extract and gently fold in the flour.
6. Divide the batter into the prepared cake tins
7. Bake for 25-30 minutes or until well risen, golden and until the cake leaves the sides of the pan. A metal skewer should come out clean when inserted in the center of the cake.
8. Remove from the oven and rest for 5 minutes, then invert from the tins onto a wire rack and cool completely.
9. While the cakes cool, prepare the butter cream, by beating the softened butter with the icing sugar and 2 teaspoon hot water in a bowl.
10. Stir in the vanilla extract and cinnamon.

SERVING
11. Slice off a thin layer from the top of each cake to level them, if desired.
12. Spread the raspberry jam and butter cream on the cakes and sandwich together.
13. Dust the top of the cake with icing sugar
14. Cut into slices and serve.