»

Recipes
Vichyssoise Recipe
I made this Vichyssoise for aparty at home and believe me, my guests were all praise of my culinary skills. This Vichyssoise is so easy and simple to make with less number of ingredients that are easily available at the kitchen cabinet. Give it a try for the next party and let me know how many praised you skills!
Cold Vichyssoise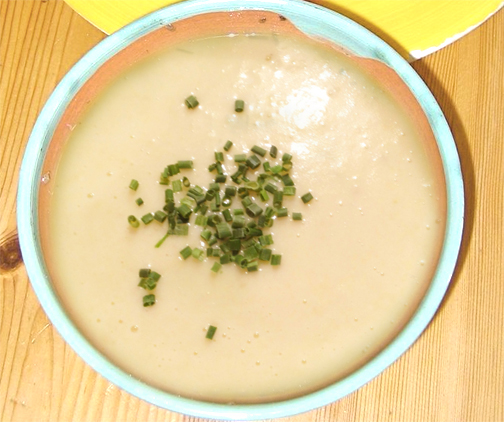 Ingredients
Butter/Margarine

1/4 Cup (16 tbs)

Leeks

4

, sliced

Chicken stock

1 Quart

1 cup raw potatoes, thinly sliced

Salt

1/2 Teaspoon

Pepper

1/8 Teaspoon

Light cream

2/3 Cup (16 tbs)

Minced chives or parsley
Directions
Melt butter or, margarine and saute sliced leeks, using only tender parts, about 5 minutes without browning.
Add stock and potatoes.and cook until potatoes are tender press through sieve .
Add seasonings and cream and garnish with, minced chives or parsley.
Reheat or chill to serve.