»

Recipes

»

Cookie

»

Very Special Cookies
Very Special Cookies Recipe
Very Special Cookies are interesting cookies that can be made on all the special occasions. You can try to make and served them if you wish to impress someone special. Here is the special recipe for you.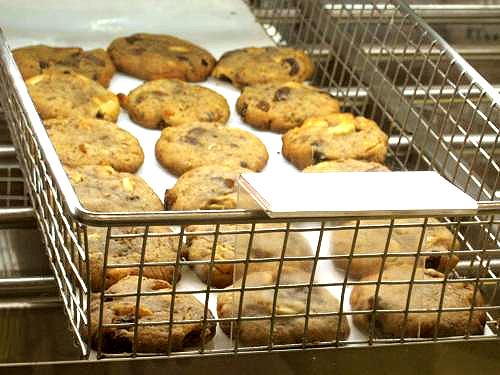 Ingredients
Butter/Margarine

1 Cup (16 tbs)

Sugar

1 Cup (16 tbs)

Brown sugar

1 Cup (16 tbs)

, firmly packed

Eggs

2

, beaten

Unsweetened applesauce

1 Cup (16 tbs)

All purpose flour

4 Cup (64 tbs)

, sifted

Salt

1 Teaspoon

Baking soda

1 Teaspoon

Nutmeg

1 Teaspoon

Mace

1 Teaspoon

Cinnamon

2 Teaspoon

Cloves

1⁄2 Teaspoon

Preserved lemon peel

1⁄4 Cup (4 tbs)

, thinly cut

Preserved orange peel

1⁄4 Cup (4 tbs)

, thinly cut

Candied cherries

1⁄2 Cup (8 tbs)

Walnuts

1 Cup (16 tbs)

, chopped

Seedless raisins

1 1⁄2 Cup (24 tbs)
Nutrition Facts
Serving size
Calories 238 Calories from Fat 77
% Daily Value*
Total Fat 9 g13.7%
Saturated Fat 4.3 g21.3%
Trans Fat 0 g
Cholesterol 30.2 mg
Sodium 118.9 mg5%
Total Carbohydrates 38 g12.8%
Dietary Fiber 1.6 g6.2%
Sugars 22.1 g
Protein 3 g6.1%
Vitamin A 4.2% Vitamin C 4.3%
Calcium 2.1% Iron 6.5%
*Based on a 2000 Calorie diet
Directions
MAKING
1)In a bowl, beat together butter and sugars until light and fluffy.
2)Add eggs and applesauce and beat well.
3)In a bowl, sift together flour, salt, soda and spices.
4)Mix the mixture to creamed mixture and blend thoroughly.
5)Add lemon peel, orange peel, cherries, walnuts and raisins and mix well.
6)Take ungreased baking sheet and drop spoonsful of batter into it, about 2 inches apart.
7)Bake at 400 for about 15 minutes.

SERVING
8)Serve the very special cookies on special occasions.