»

Recipes

»

Veggie Casserole
Veggie Casserole Recipe
Want something meatless? Try a veggie-packed casserole with a dilly of a biscuit top.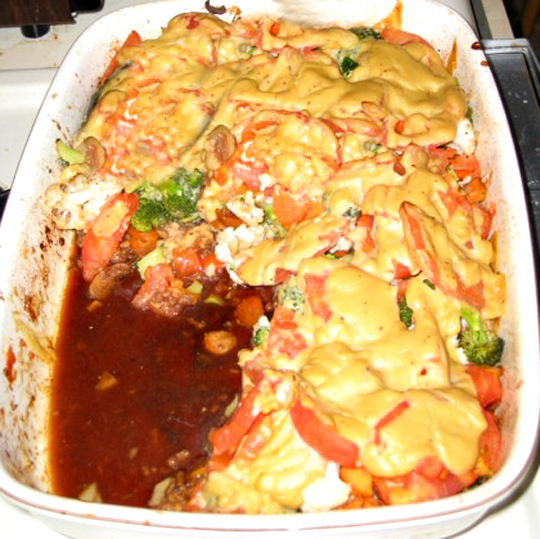 Ingredients
Onion

1⁄2 Cup (8 tbs)

, chopped (1 medium sized)

Frozen broccoli

1 Pound

(carrots and cauliflower)

Frozen broccoli cuts

2 Cup (32 tbs)

(from 1-lb bag)

Refrigerated alfredo pasta sauce

10 Ounce

Original bisquick mix

2 1⁄4 Cup (36 tbs)

Milk

2⁄3 Cup (10.67 tbs)

Dried dill weed

3⁄4 Teaspoon
Nutrition Facts
Serving size
Calories 436 Calories from Fat 170
% Daily Value*
Total Fat 19 g29.1%
Saturated Fat 7.7 g38.4%
Trans Fat 2.2 g
Cholesterol 42 mg
Sodium 1132.2 mg47.2%
Total Carbohydrates 53 g17.8%
Dietary Fiber 5.5 g21.8%
Sugars 5.4 g
Protein 14 g27.1%
Vitamin A 96% Vitamin C 231%
Calcium 23.7% Iron 11.1%
*Based on a 2000 Calorie diet
Directions
1. Heat oven to 400°F. Spray 10-inch skillet with cooking spray; heat over medium-high heat. Cook onion in skillet 2 to 3 minutes, stirring occasionally, until crisp-tender.
2. Stir in vegetable mixture, broccoli and Alfredo sauce; reduce heat to medium. Cover; cook 5 to 6 minutes, stirring occasionally, until hot. Spoon into ungreased 8-inch square (2-quart) glass baking dish.
3. In medium bowl, stir Bisquick mix, milk and dill weed until soft dough forms. Drop dough by 9 spoonfuls onto hot vegetable mixture.
4. Bake 18 to 22 minutes or until biscuits are golden brown.