»

Recipes

»

Cheese

»

Veggie Wrap
Veggie Wrap Recipe
Veggie Wrap is tasty breakfast made from grains eggs cheese vegetable. Specially great for kids holiday.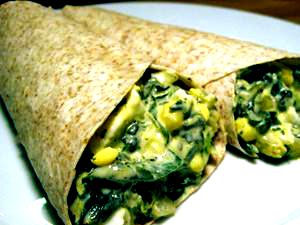 Ingredients
Hard boiled eggs

8

, chopped

Chopped tomato

1 Cup (16 tbs)

Chopped avocado

1 Cup (16 tbs)

Chopped zucchini

1 Cup (16 tbs)

Chopped onions

1⁄2 Cup (8 tbs)

Italian salad dressing

1 Cubic Centimeter

Flour tortillas

8

(7 inch)

Salt

To Taste

Pepper

To Taste
Nutrition Facts
Serving size
Calories 400 Calories from Fat 198
% Daily Value*
Total Fat 23 g34.6%
Saturated Fat 5.3 g26.4%
Trans Fat 0 g
Cholesterol 386.7 mg
Sodium 614.3 mg25.6%
Total Carbohydrates 34 g11.5%
Dietary Fiber 5.7 g22.8%
Sugars 5.1 g
Protein 17 g34.4%
Vitamin A 20% Vitamin C 31.2%
Calcium 6.6% Iron 16%
*Based on a 2000 Calorie diet
Directions
In medium bowl, gently stir together eggs, tomato, avocado, zucchini, onion, dressing, and salt and pepper, if desired. Spoon about 2/3 cup mixture into each tortilla and roll to enclose filling. Garnish with green onion and chips, if desired.

*To hard cook: Place eggs in single layer in saucepan. Add enough tap water to come at least 1 inch above eggs. Cover. Quickly bring just to boiling. Turn off heat. If necessary, remove pan from burner to prevent further boiling. Let eggs stand, covered, in the hot water, 15 minutes for Large eggs (about 18 minutes for Extra Large and about 12 minutes for Medium). Immediately run cold water over eggs or place in ice water until completely cooled.