»

Recipes

»

European

»

Vegetarian Shepherd's Pie
Vegetarian Shepherd's Pie Recipe
Who would believe you can make a hearty shepherd's pie without meat and gravy?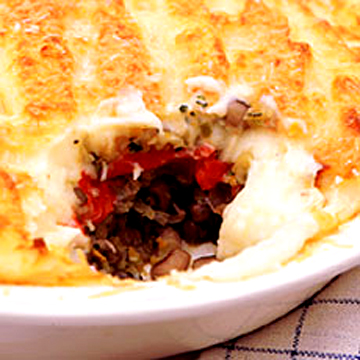 Ingredients
Hot water/Null

1 1⁄2 Cup (24 tbs)

Milk/Null

1⁄2 Cup (8 tbs)

Butter/Margarine

2 Tablespoon

Four cheese/Null

1⁄2 Cup (8 tbs)

Frozen vegetables/Null

3 Cup (48 tbs)

(any variety)

Condensed cheddar cheese soup/Condensed cream of mushroom soup

11 Ounce

Sliced mushrooms/Null

4 Ounce

(drained)

French fried onions/Null

2 4⁄5 Ounce
Nutrition Facts
Serving size
Calories 294 Calories from Fat 112
% Daily Value*
Total Fat 13 g19.3%
Saturated Fat 5.6 g28.2%
Trans Fat 0 g
Cholesterol 24.1 mg8%
Sodium 856.1 mg35.7%
Total Carbohydrates 35 g11.7%
Dietary Fiber 5.4 g21.4%
Sugars 11.3 g
Protein 8 g15.8%
Vitamin A 61.2% Vitamin C 10%
Calcium 13.2% Iron 0.86%
*Based on a 2000 Calorie diet
Directions
1. Heat oven to 350ºF. Heat hot water, milk and butter to a rapid boil in 2-quart saucepan. Remove from heat. Stir in 1 pouch Potatoes and 1 pouch Seasoning just until moistened. Let stand about 1 minute or until liquid is absorbed. Whip with fork until smooth; set aside.
2. Stir remaining ingredients except onions in large bowl. Pour vegetable mixture into ungreased 1 1/2-quart casserole; sprinkle with half of the onions. Spread potatoes over onions.
3. Bake uncovered 25 minutes; sprinkle with remaining onions. Bake 3 to 5 minutes longer or until mixture is hot and onions are brown.
High Altitude (3500-6500 ft) Heat oven to 375ºF. For Do-Ahead directions, heat oven to 375°F and increase first bake time to 40 minutes.

Really, this is a delicious pie. I had tried this recipe last sunday, its turn out great. This is a very simple recipe. Thanks for sharing this nice Vegetarian Shepherd's Pie Recipe .
Posted on:
14 February 2008 - 2:17pm

why is this called shepherds pie ?
Posted on:
9 February 2008 - 7:21pm