»

Recipes

»

Pasta

»

Vegetarian "Chicken" Lasagna Alfredo
Vegetarian "Chicken" Lasagna Alfredo Recipe
This totally vegetarian lasagna has become a welcome main course to all of my meat-eating friends. It has a rich "chicken" alfredo sauce that has great texture and flavor.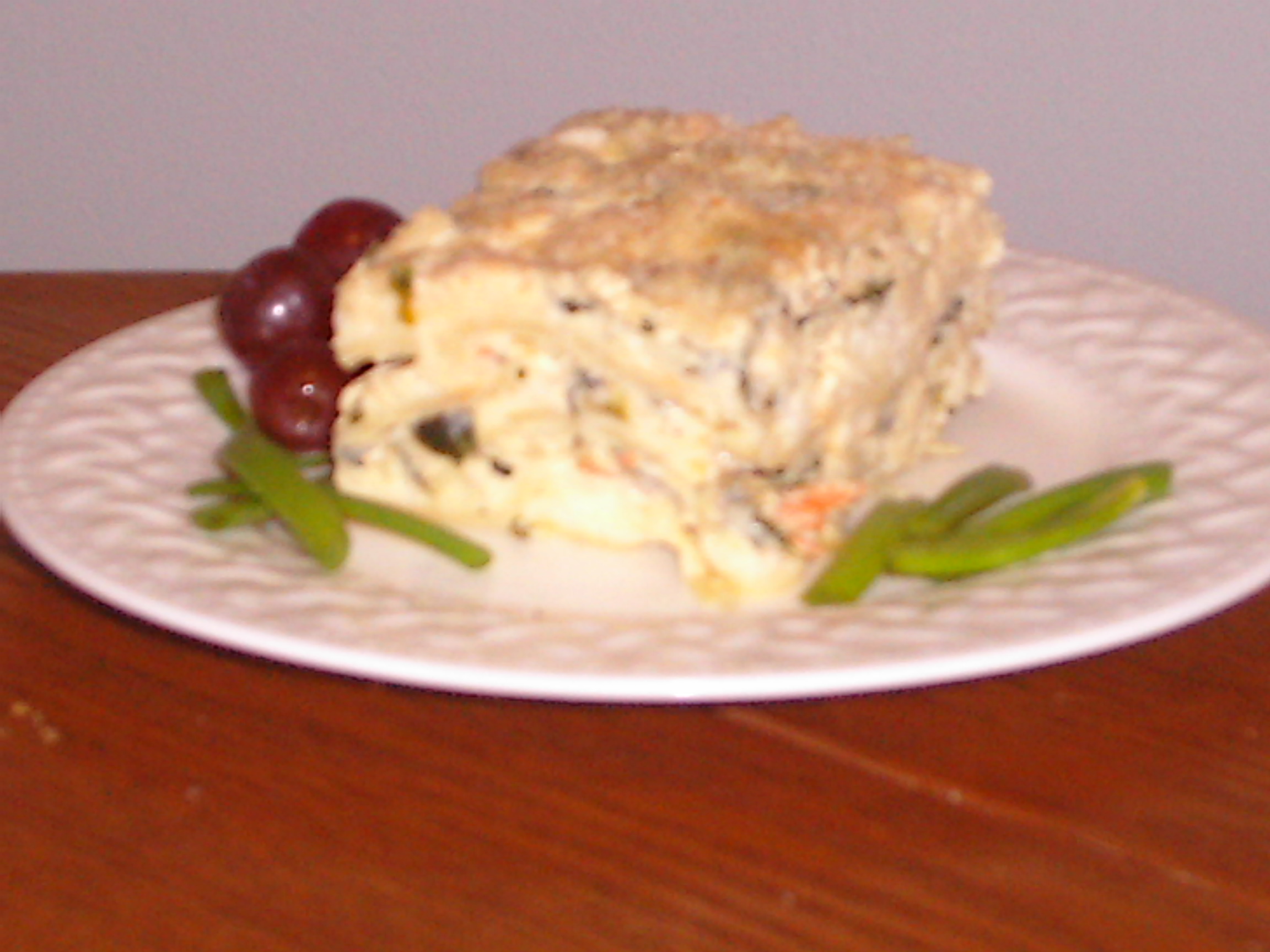 Ingredients
Lasagna noodles

1 box

1 bag MorningStar ChikÂ'n Strips

Olive oil

1 Teaspoon

White onion

1

Garlic bulb

1/2

Green bell pepper

1 Small

1 ½ jar alfredo sauce (about 20oz.)

2 tsp of LawryÂ's seasoned salt

Black pepper

1 Pinch

Ricotta cheese

1 Small

Mozzarella cheese

2 Cup (16 tbs)

2 cups Italian blended cheeses

Parmesan cheese

1 1/2 Cup (16 tbs)

Egg

1

Bread crumbs

1/2 Cup (16 tbs)

Frozen spinach

2/3 Cup (16 tbs)

Broccoli

2/3 Cup (16 tbs)

, frozen

Carrots

1/3 Cup (16 tbs)

, shredded
Directions
• Preheat oven to 375.
• Thaw and drain spinach and broccoli. Toss in a large bowl and set aside.
• Begin boiling large pot of water (begin boiling noodles according to box instructions. Do not overcook)
• Chop onion, garlic and bell pepper in food processor. Saute in olive oil about 2-3 min. then add "MorningStar Chik'N Strips". Sprinkle mixture with seasoned salt. Add broccoli, carrots and spinach pieces. Saute for an additional 3-5 min longer and season to taste with additional Lawry's and black pepper. Add Alfredo sauce and stir well. Lower heat and simmer for 10 min, stirring frequently.
• Set aside 1cup of mozzarella cheese and ½ cup Italian blended cheese to sprinkle. In large bowl, combine remaining cheeses and egg. Stir until well blended.
• Layer lasagna by placing lasagna noodles side by side to cover bottom of lasagna pan. Spread cheese mixture on top of noodles. Spread alfredo sauce mixture on top of cheese mixture. Sprinkle thin layer of shredded cheese over Alfredo mixture. Repeat layers until top of pan is reached. Sprinkle top of lasagna with breadcrumbs and a small amount of parmesan cheese.
• Bake lasagna covered with aluminum foil for 35 min. Uncover and continue to bake until top of lasagna browns (about 15-20min).
• Serve hot.