»

Recipes

»

Herb

»

VEGETABLE WITH DRY CORIANDER
VEGETABLE WITH DRY CORIANDER Recipe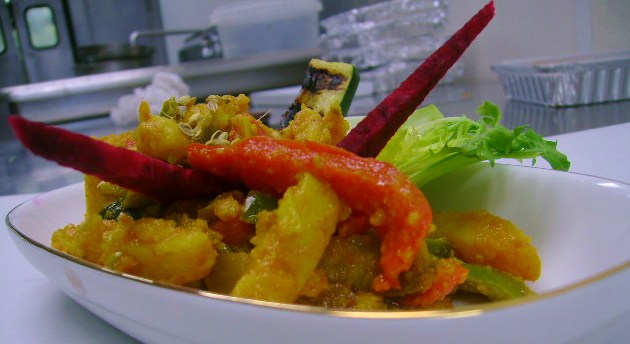 Summary
Preparation Time
30 Min
Cooking Time
15 Min
Recipe Story
mixed vegatable with orange juice
Ingredients
| | | |
| --- | --- | --- |
| | Vegetable oil | 1 Tablespoon |
| | Sliced almonds | 2 Tablespoon |
| | Mixed vegetables | 4 Cup (64 tbs) |
| | Garlic paste | 1 Teaspoon |
| | Ginger paste | 1 Teaspoon |
| | Coriander seeds | 1 Tablespoon |
| | Tomato | 2 Medium |
| | Dried red chili | 4 |
| | Red chili powder | 1⁄2 Teaspoon |
| | Turmeric powder | 1⁄2 Teaspoon |
| | Orange | 1⁄4 |
| | Salt | To Taste |
Nutrition Facts
Serving size
Calories 255 Calories from Fat 73
% Daily Value*
Total Fat 9 g13.1%
Saturated Fat 0.87 g4.3%
Trans Fat 0 g
Cholesterol 0 mg
Sodium 158.3 mg6.6%
Total Carbohydrates 37 g12.5%
Dietary Fiber 8.8 g35.3%
Sugars 12.8 g
Protein 8 g15.4%
Vitamin A 76.1% Vitamin C 35.2%
Calcium 10.6% Iron 7.7%
*Based on a 2000 Calorie diet
Directions
Heat half oil in a non-stick pan.
Add almond slice and tossed for about 5 minutes until lightly browned.
Put ginger garlic paste cook for a minutes ,add all the vegetable,and spices,toss for a minutes, tossing often until vegetables are crisp-tender.
Add orange juice,check seasoning.
Serve hot garnish with dry chilly

yum...tomatoes, garlic, ginger and chili should spice this up real nice. I love my vegetables but generally make mild preparation for daily meals. This one is going in my collection for sure. I love spicy food!!
Posted on:
25 May 2009 - 1:20am

I am in the process of keep up to one of my new year resolutions - to start loving the veggies I always hated. The recipe seems to be on my side, that is lil bit on the spicier side, so would love to give it a try. However, would like to know, if I can replace brocollo with other similar veggies or may be try a combination of a few?
Posted on:
7 February 2009 - 10:33pm