»

Recipes

»

Stew
Vegetable Stew Recipe
Vegetable Stew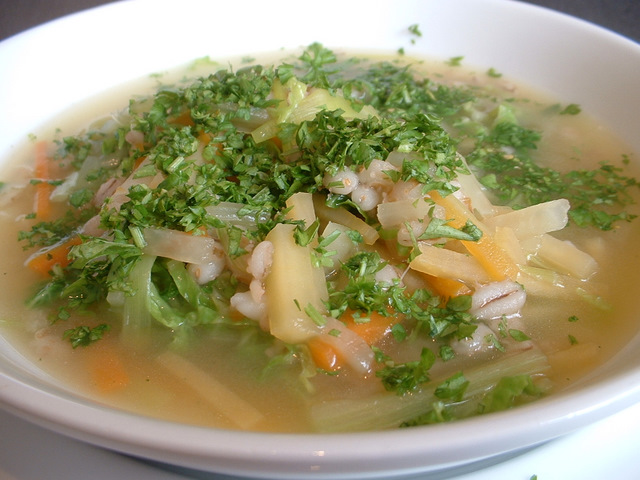 Ingredients
Carrots

1 Bunch (100 gm)

Celery stick

3

Water

1 Quart

Oil

3⁄4 Cup (12 tbs)

Brinjal

1 Small

Bell peppers

2

Potatoes

4 Large

Onions

4

Peanut butter

1 Tablespoon

Whole-wheat flour

2 Tablespoon

Salt

To Taste

Parsley

1 Tablespoon

, for garnish
Nutrition Facts
Serving size
Calories 510 Calories from Fat 269
% Daily Value*
Total Fat 31 g47%
Saturated Fat 4.1 g20.7%
Trans Fat 0 g
Cholesterol 0 mg
Sodium 123.9 mg5.2%
Total Carbohydrates 58 g19.2%
Dietary Fiber 10.4 g41.6%
Sugars 9.4 g
Protein 8 g15.3%
Vitamin A 65.8% Vitamin C 154.1%
Calcium 7.5% Iron 14.2%
*Based on a 2000 Calorie diet
Directions
GETTING READY
1. Wash the vegetables and cut into 1 inch pieces.

MAKING
2. In a pot of boiling water, add chopped vegetables and salt; simmer for about 20 minutes until vegetables are cooked.
3. In a pan, heat oil and add sauté pepper.
4. Stir in peanut butter and add to the stew for thickening.
5. Stir in parsley just before the stew is done.

SERVING
6. Ladle soup into soup bowls and serve with bread sticks.