»

Recipes

»

Stew
Vegetable Stew Recipe
No need for bread. This hearty stew is loaded with vegetables and, best of all, the herb dumplings cook right on the stew.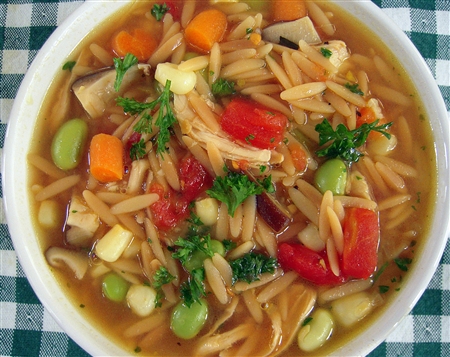 Ingredients
Onion

1 Medium

, chopped (1/2 Cup)

Vegetable oil

1 Tablespoon

Orzo pasta/Rosamarina pasta

1⁄2 Cup (8 tbs)

(Uncooked)

Chicken broth/Vegetable broth

4 Cup (64 tbs)

Ground mustard

1 Teaspoon

Frozen sweet peas potatoes and carrots

16 Ounce

(Thawed)

Great northern beans

16 Ounce

(Drained, Rinsed)

Bisquick heart smart mix

1 Cup (16 tbs)

Cornmeal

2⁄3 Cup (10.67 tbs)

Dried oregano

1⁄4 Teaspoon

Dried basil leaves

1⁄4 Teaspoon

Fat free milk

2⁄3 Cup (10.67 tbs)

(Skim)
Nutrition Facts
Serving size
Calories 935 Calories from Fat 100
% Daily Value*
Total Fat 11 g16.8%
Saturated Fat 1.2 g6.1%
Trans Fat 0 g
Cholesterol 0.77 mg
Sodium 1226.2 mg51.1%
Total Carbohydrates 173 g57.8%
Dietary Fiber 32.9 g131.5%
Sugars 13.3 g
Protein 41 g82.5%
Vitamin A 116.3% Vitamin C 37.2%
Calcium 59.6% Iron 58.4%
*Based on a 2000 Calorie diet
Directions
1. Cook onion in oil in Dutch oven over medium heat, stirring occasionally, until crisp-tender.
2. Stir in pasta, broth, mustard, vegetables and beans. Heat to boiling, stirring occasionally.
3. Stir together Bisquick mix, cornmeal, oregano and basil. Stir in milk just until dry ingredients are moistened.
4. Drop dough by tablespoonfuls onto boiling stew; reduce heat to low. Cook uncovered 10 minutes. Cover and cook 10 minutes longer.
High Altitude (3500-6500 ft) Cook dumplings uncovered over low heat 12 minutes. Cover and cook 12 minutes.