»

Recipes

»

Puff

»

Vegetable Puff
Vegetable Puff Recipe
A Puff Pastry with Vegetable filling which can be had as a snack with a good cup of tea.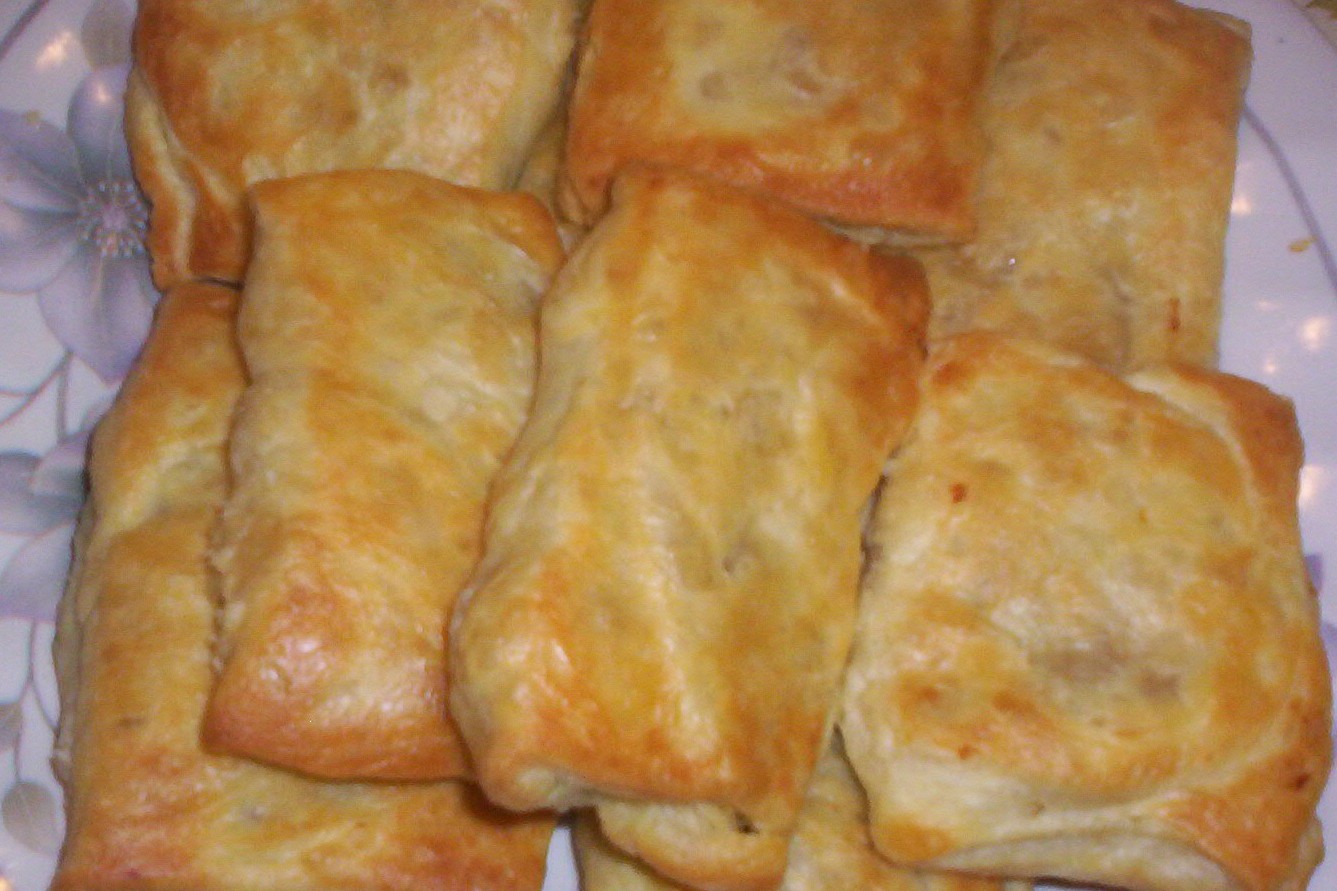 Summary
Preparation Time
30 Min
Cooking Time
30 Min
Ready In
1 Hr 0 Min
Difficulty Level
Medium
Health Index
Just Enjoy
Servings
4
Ingredients
Puff pastry sheet

1

(from the frozen section of supermarket)

Boiled potatoes

3

Chopped onion

1

Chopped green chillies

3

Green peas

1⁄2 Cup (8 tbs)

Ginger garlic paste

1⁄2 Teaspoon

Turmeric powder

1 Pinch

Red chilli powder

1⁄2 Teaspoon

Garam masala

1 Teaspoon

Coriander leaves

1 Teaspoon

, chopped

Cumin seeds

1⁄2 Teaspoon

Lemon juice

1 Teaspoon

Salt

To Taste

Oil

2 Tablespoon
Nutrition Facts
Serving size
Calories 488 Calories from Fat 222
% Daily Value*
Total Fat 25 g38%
Saturated Fat 5.5 g27.7%
Trans Fat 0 g
Cholesterol 0 mg
Sodium 488.6 mg20.4%
Total Carbohydrates 57 g18.9%
Dietary Fiber 8.8 g35%
Sugars 4.6 g
Protein 11 g22.1%
Vitamin A 10.6% Vitamin C 62.8%
Calcium 10.9% Iron 59.7%
*Based on a 2000 Calorie diet
Directions
Mash the potatoes with hand and keep them aside.Heat oil in pan and allow cumin seeds to splutter.
Add onion ,ginger-garlic paste,green chillies and salt and saute them for a while.Add all the masala powders and again saute for a few minutes.
Add mashed potatoes and green peas and mix well.Simmer for few more minutes .Switch off the gas
and add coriander leaves and lemon juice.Mix well and keep them aside.And now the filling is ready to use.
Thaw the pastry sheets and unfold . If necessary roll pin over the pastry sheets to make them even.
Cut the pastry sheets into square pieces and place the filling in the middle and cover the end with the other end. Press the ends tightly in order to seal them. You can use water to seal .
Preheat the oven at 350°F and place the puffs in baking tray and bake them for about 30 minutes or till the crust turns golden brown in color. Serve hot with tomato sauce.

emily123456789 says :
wtf ian watson, if you have nothing good to say, then don't say anything at all. didn't anyone ever tell you not to say anything if you have nothing good to say?? oh wait, someone probably did tell you but you're such a JACKASS that you wouldn't remember.
Posted on:
23 March 2010 - 6:17pm

fathima says :
nice recipie ill try it today for my daughter
Posted on:
21 January 2010 - 2:34am