»

Recipes

»

Indian

»

Vegetable Poha
Vegetable Poha Recipe
Poha (Flaked Rice) is the most common breakfast of the North Indian community. It is light on the digestive system and yet filling! Adding vegetables to it makes it even more healthier and tastier. Its really easy to cook and tates delicious. It is a quick meal and can be had either for breakfast or a quick snack. It takes very little preparation time and i am sure this recipe can never fail you !! Believe me.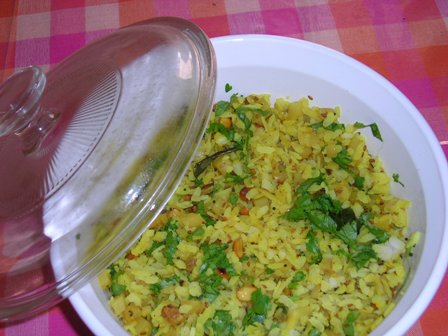 Summary
Preparation Time
5 Min
Cooking Time
12 Min
Ready In
17 Min
Difficulty Level
Easy
Health Index
Healthy
Servings
2
Ingredients
Thick poha

1 Cup (16 tbs)

(flaked rice)

Chopped vegetables

1 Cup (16 tbs)

(capsicum (bell pepper), carrot, potato, some greenpeas, whole, tomato)

Chopped onion

1 Medium

Chopped green chilies

4 Medium

Curry leaves

1 Teaspoon

Lemon juice/1 spoon lime juice

1⁄2 Medium

Sugar

2 Teaspoon

Salt

1 Teaspoon

Oil

2 Tablespoon
Nutrition Facts
Serving size
Calories 267 Calories from Fat 141
% Daily Value*
Total Fat 16 g24.7%
Saturated Fat 2.1 g10.4%
Trans Fat 0 g
Cholesterol 0 mg
Sodium 1308.4 mg54.5%
Total Carbohydrates 30 g10.1%
Dietary Fiber 4.4 g17.8%
Sugars 11.8 g
Protein 5 g9.9%
Vitamin A 105.7% Vitamin C 229.3%
Calcium 18% Iron 17.9%
*Based on a 2000 Calorie diet
Directions
Method:
Wash one cup poha in cold water and drain. Leave the poha aside for 10 minutes and let them puff. After 10 minutes add into the poha 2 tea spoons sugar, 1 spoon lime juice, and ½ tea spoon salt and mix well. Keep aside.

Preparation:
Take a deep pan and add 2 table spoons oil, when the oil heats, add a few mustard seeds, cumin seeds and allow them to pop. Then, add a pinch of hing (asafoetida powder). To this, add the curry leaves, the chopped green chilles, chopped onion and peanuts/cashewnuts. Stir them well for a minute and then add the finely chopped vegetables to it. (I recommend you use a vegetable chopper as the vegetables get very finely chopped in it and cook faster.)Then, add ¼ teaspoon of turmeric power and very little salt (just enough for the vegetables…we already have salt in the poha mix). After 5 minutes of occasional stiring, (u can splash to it very little water to avoid the vegetables gettting burnt) add the poha mix and stir well. Let it cook on a low flame for 5 minutes. Do not cover it with a lid. The poha is now ready. Before serving, garnish it with chopped onions, chopped cilantro and sev (optional). Relish while hot!!!

Priyanka bansal says :
hi,i tried it and it was delicious.thanx fr giving such an easy and the best reciepe.
Posted on:
26 August 2009 - 11:11pm

Delicious picture of vegetable poha. This recipe is also excellent. It is true that this poha is a very popular breakfast dish in North India, especially in Malwa region. Thanks for sharing this nice recipe.
Posted on:
29 April 2008 - 8:28am