»

Recipes

»

Frittata
Vegetable Frittata Recipe
Broccoli, carrot, onion, Cheddar and Parmesan make this a hearty--and delicious--Italian omelet.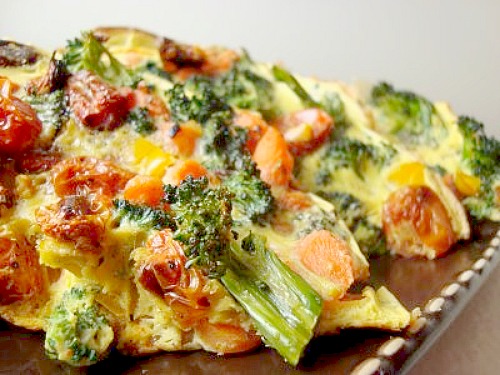 Ingredients
Eggs

4

Milk

1⁄4 Cup (4 tbs)

Chopped parsley

1 Tablespoon

Salt

1⁄4 Teaspoon

Red pepper sauce

1⁄4 Teaspoon

Vegetable oil

1 Tablespoon

Broccoli flowerets

1 Cup (16 tbs)

Carrot

1 Medium

, shredded (1/2 Cup)

Onion

1 Medium

, chopped (1/2 Cup)

Shredded cheddar cheese

4 Ounce

Grated parmesan cheese

1 Tablespoon
Nutrition Facts
Serving size
Calories 274 Calories from Fat 174
% Daily Value*
Total Fat 20 g30.1%
Saturated Fat 9.1 g45.3%
Trans Fat 0 g
Cholesterol 246.6 mg
Sodium 456.6 mg19%
Total Carbohydrates 9 g2.9%
Dietary Fiber 1.4 g5.7%
Sugars 4.1 g
Protein 16 g31.2%
Vitamin A 81.6% Vitamin C 43.9%
Calcium 31.7% Iron 8.3%
*Based on a 2000 Calorie diet
Directions
1. Beat eggs, milk, parsley, salt and pepper sauce until well blended; set aside.
2. Heat oil in 10-inch nonstick skillet over medium-high heat. Cook broccoli, carrot and onion in oil about 5 minutes, stirring frequently, until vegetables are crisp-tender.
3. Pour egg mixture over vegetables. Sprinkle with cheeses; reduce heat to low. Cover and cook about 10 minutes or until eggs are set in center. Cut into wedges.