»

Recipes

»

Potato

»

Vegan Mashed Potatoes And Blueberry Buckle
Vegan Mashed Potatoes And Blueberry Buckle Recipe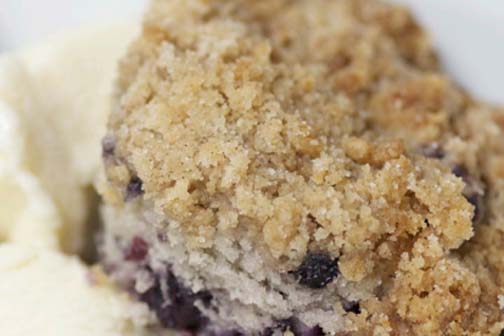 Ingredients
Vegan margarine

1/4 Cup (16 tbs)

, softened

Sugar

3/4 Cup (16 tbs)

Unsweetened applesauce

1/4 Cup (16 tbs)

2 cups all purpose ?our

Baking powder

2 Teaspoon

Salt

1/4 Teaspoon

Soy milk

1/2 Cup (16 tbs)

Blueberries

2 Cup (16 tbs)

Sugar

2/3 Cup (16 tbs)

(Topping:)

1/2 cup all purpose ?our

Ground cinnamon

1/2 Teaspoon

(Topping:)

Vegan margarine

1/3 Cup (16 tbs)

(Topping:)
Directions
Preheat oven to 375°F.
In a small mixing bowl, cream butter and sugar. Beat in the egg.
Combine the flour, baking powder and salt; add to creamed mixture
alternately with milk. Fold in the blueberries. Pour into greased 9
inch square baking pan.
For topping, combine the sugar, flour, and cinnamon in a bowl; cut
in butter until crumbly. Sprinkle over blueberry mixture. Bake for
40-45 minutes or until a toothpick inserted near the centre comes
out clean. Cool on a wire rack.
*When I made this, I only had an 8 inch square dish so it took more
time to cook. About 65 minutes
This video is a creation of vegancooking. You can visit
vegancooking
for complete recipes, and more videos.