»

Recipes

»

Stew

»

Veal Stew Marsala
Veal Stew Marsala Recipe
How is it that you still haven't tried my recipe for Veal Stew Marsala. The main ingredient in Veal Stew Marsala is always veal. This Veal Stew Marsala makes a compelling Side Dish for most party meals. You need to try this Veal Stew Marsala just once! You'll certainly remain loyal to it forever!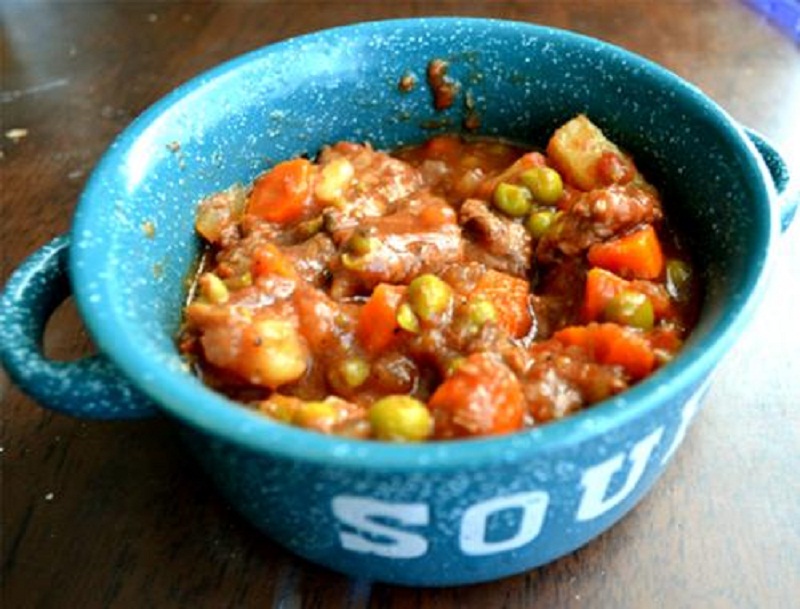 Ingredients
Vegetable oil

1 Tablespoon

Veal cubes

30 Ounce

(1 Pound 14 Ounces)

Chopped onions

1 Cup (16 tbs)

Minced fresh garlic

1 Tablespoon

All purpose flour

2 Tablespoon

Sliced mushrooms

2 Cup (32 tbs)

Thinly sliced carrots

1 1⁄2 Cup (24 tbs)

Water

1 1⁄2 Cup (24 tbs)

Dry marsala wine

3⁄4 Cup (12 tbs)

Crushed tomatoes

1⁄2 Cup (8 tbs)

, chopped (Fresh Or Canned)

Instant chicken broth and seasoning mix

3 Ounce

(Two 1.5 Ounce Each Packages)

Salt

1 Teaspoon

Pepper

1 Dash

Frozen peas

1⁄2 Cup (8 tbs)
Nutrition Facts
Serving size: Complete recipe
Calories 1577 Calories from Fat 282
% Daily Value*
Total Fat 32 g48.8%
Saturated Fat 9.8 g48.8%
Trans Fat 0 g
Cholesterol 675 mg
Sodium 4273.9 mg178.1%
Total Carbohydrates 109 g36.3%
Dietary Fiber 15.6 g62.4%
Sugars 21.5 g
Protein 194 g387.7%
Vitamin A 802.9% Vitamin C 89.2%
Calcium 20.2% Iron 29.7%
*Based on a 2000 Calorie diet
Directions
In 3-quart saucepan heat oil; add veal and brown on all sides.
Add onions and garlic and saute briefly, about 3 minutes (do not brown).
Add flour and stir until thoroughly combined; add remaining ingredients except peas and bring to a boil, stirring occasionally.
Reduce heat, cover, and let simmer until meat is tender, about 40 minutes.
Add peas, cover, and cook for 10 minutes longer.