»

Recipes

»

Scallop

»

Veal Scallops
Veal Scallops Recipe
Veal Scallops has a lovely taste. Veal Scallops gets its taste from Veal mixed with flour and flavored with white wine. Veal Scallops is inspired by many food joints around the world.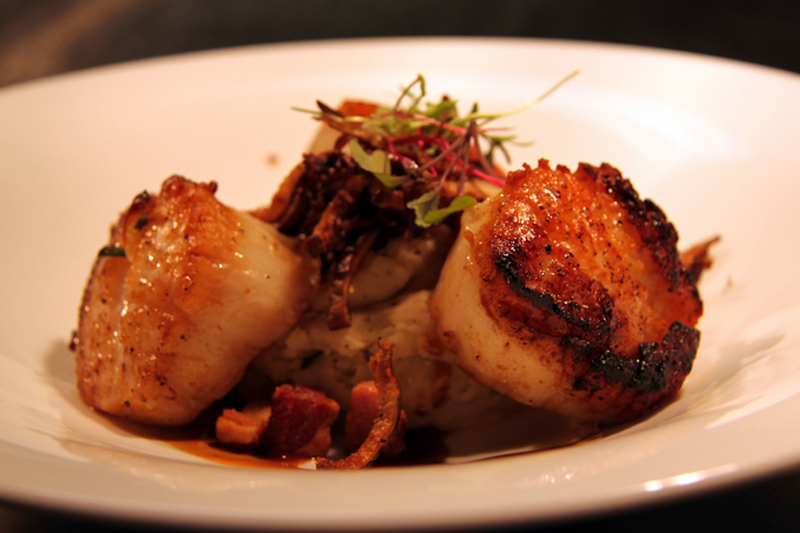 Ingredients
Boneless veal

1 Pound

Butter/Margarine

4 Tablespoon

Onion

1

, finely chopped

Flour

2 Tablespoon

White wine

1⁄2 Cup (8 tbs)

Bouillon/Broth

1⁄2 Cup (8 tbs)

Salt

To Taste

Pepper

1

Chopped parsley

1 Tablespoon
Nutrition Facts
Serving size: Complete recipe
Calories 1694 Calories from Fat 835
% Daily Value*
Total Fat 94 g144.3%
Saturated Fat 47.8 g238.9%
Trans Fat 0 g
Cholesterol 655.3 mg
Sodium 910.9 mg38%
Total Carbohydrates 41 g13.6%
Dietary Fiber 4.2 g16.7%
Sugars 7.4 g
Protein 144 g287.1%
Vitamin A 55.3% Vitamin C 50.5%
Calcium 8.2% Iron 16.4%
*Based on a 2000 Calorie diet
Directions
Put the veal on a cutting board.
Pound with a meat hammer until very thin.
Cut the meat into small pieces (scallops).
Melt the butter in a heatproof casserole or skillet.
Add chopped onion to skillet; cook several minutes, stirring occasionally, or until lightly browned.
Dredge meat pieces with flour and put into casserole.
Cook quickly over high heat until the veal is lightly browned.
Stir in wine, broth, salt and pepper.
Cook several minutes longer, stirring occasionally.
Remove from heat; let stand a few minutes, then sprinkle with chopped parsley.
Image Courtesy :
http://www.flickr.com/photos/pvsbond/4632155026/