»

Recipes

»

Veal

»

Veal Paprika
Veal Paprika Recipe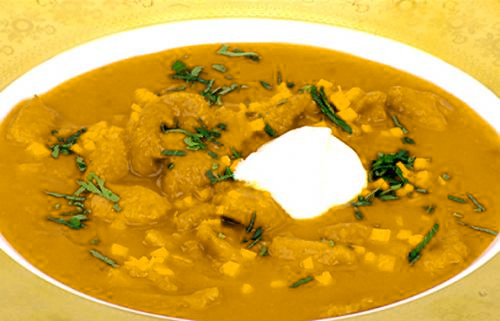 Ingredients
Veal

2 Pound

, cubed

Butter

1/4 Cup (16 tbs)

Chopped instant onions - 1/4 cup

Season-All - 1 teaspoon

Salt

1/2 Teaspoon

Paprika

1 Tablespoon

Black pepper

1/4 Teaspoon

Parsley flakes

1 Tablespoon

Water

1 1/2 Cup (16 tbs)

Mushrooms

1/2 pound

Butter

2 Tablespoon

Commercial sour cream - 1 cup
Directions
MAKING
1.Heat butter and cook veal pieces in it until brown.
2.Add onions, Season-All, salt, paprika, pepper, parsley flakes and water to it and let the ingredients cook for 1 hour on low flame until the meat is soft.
3.Meanwhile, heat 2 tablespoons butter and saute mushrooms in it.
4.Add the mushrooms to veal when 15 minutes are left.
5.Turn off the flame and add sour cream to veal mixture.
Heat the mixture.
6.For a thicker sauce, Add a mixture of 2 tablespoons water combined with 1 tablespoon arrow root or 2 tablespoons flour.

SERVING
7.Serve with rice or buttered noodles.