»

Recipes

»

VANILLA SOFT SERVE ICE CREAM – NO ICE CREAM MAKER NEEDED
VANILLA SOFT SERVE ICE CREAM – NO ICE CREAM MAKER NEEDED Recipe
It is amazing how creamy of a product this turns out considering there is no ice cream maker involved. I've made it many times, always with good results. It's well worth the calories :-)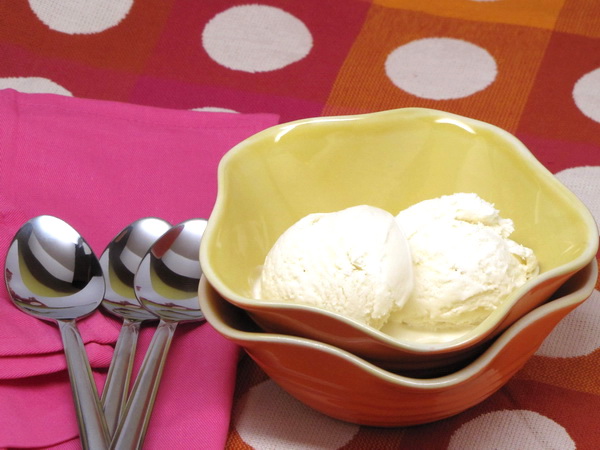 Ingredients
| | | |
| --- | --- | --- |
| | Whole milk | 1⁄2 Cup (8 tbs) |
| | Vanilla | 1 Tablespoon |
| | Sweetened condensed milk | 1 Can (10 oz) |
| | Salt | 1⁄8 Teaspoon |
| | Heavy cream | 2 Cup (32 tbs) |
Nutrition Facts
Serving size
Calories 223 Calories from Fat 151
% Daily Value*
Total Fat 17 g26.4%
Saturated Fat 10.7 g53.4%
Trans Fat 0 g
Cholesterol 63.8 mg
Sodium 69.3 mg2.9%
Total Carbohydrates 15 g4.9%
Dietary Fiber 0 g
Sugars 13.6 g
Protein 3 g6%
Vitamin A 13.2% Vitamin C 1.4%
Calcium 10.4% Iron 0.34%
*Based on a 2000 Calorie diet
Directions
Stir milk, vanilla, condensed milk and salt in a medium bowl. Beat heavy cream to stiff peaks (but don't over beat or the cream will begin to break down) and then fold into the milk mix. Folding is just a method to mix things a little gentler than stirring. You just keep inserting a spatula or spoon UNDER the ingredients and left or fold them up on top – keep repeating to fully incorporate the ingredients. Pour into a shallow 1 ½ quart METAL (because it conducts the cold better) bowl and freeze the mix 4 hours, stirring once halfway through.
If you keep this in the freezer for more than a day, it will get very hard and you need to let it sit a few minutes before scooping out servings.
Variations:
Strawberry – omit the milk and vanilla – instead stir in 4 c pureed strawberries and 2 T corn syrup.
Coffee – add 2 T instant coffee to the milk and dissolve , then continue with other steps
Others – add 2 T flavored coffee creamers to the milk mix (Irish Cream tastes GREAT)
* 299 calories per serving
This recipe is excerpted from the book
400 or Less - Summer Fun
by
Aileen Figula Kiter
. To purchase this book, please visit:
Amazon.Com