»

Recipes

»

Sauce

»

Vanilla Cream Sauce
Vanilla Cream Sauce Recipe
Vanilla Cream Sauce is an amazingly delicious recipe version. An easy to make recipe, you will simply find this Vanilla Cream Sauce both mouth-watering and amazingly tempting.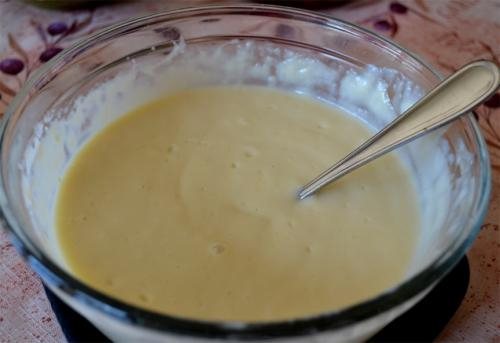 Ingredients
Milk

1 Cup (16 tbs)

Vanilla bean

2 Inch

, split (1 Piece)

Egg yolks

3

Sugar

3 Tablespoon

Whipping cream

1 Cup (16 tbs)

Sifted powdered sugar

1⁄4 Cup (4 tbs)
Nutrition Facts
Serving size: Complete recipe
Calories 1455 Calories from Fat 895
% Daily Value*
Total Fat 99 g152.9%
Saturated Fat 61.5 g307.7%
Trans Fat 0 g
Cholesterol 909.3 mg
Sodium 178.3 mg7.4%
Total Carbohydrates 106 g35.3%
Dietary Fiber 3.2 g12.7%
Sugars 100.4 g
Protein 14 g28.8%
Vitamin A 17.6% Vitamin C
Calcium 48.9% Iron 7.2%
*Based on a 2000 Calorie diet
Directions
For custard sauce: Scald milk with vanilla bean in heavy small nonaluminum saucepan over medium-high heat and set aside.
Combine egg yolks and sugar in medium bowl and whisk until mixture is thick and lemon colored.
Gradually whisk milk into egg mixture.
Return to saucepan.
Place over low heat and cook, stirring constantly, until mixture thickens and coats spoon.
Set pan in bowl of ice water to cool.
Strain custard into medium bowl.
Cover and refrigerate until well chilled. (Can be made 5 days ahead.) Whip cream in medium bowl, gradually adding powdered sugar, until stiff and glossy.
Gently fold cream into cooled custard sauce.
Transfer to bowl.