»

Recipes

»

Italian

»

Two-Way Tortoni
Two-Way Tortoni Recipe
Two way tortoni is a custard like italian dessert that is served chilled. This tortoni recipe is made with almonds and coconut for flavor as in a traditional tortoni. Creamed with whipped cream, coffee powder and vanilla for extra flavor, the two way tortoni is a rich and delcious dessert that can be served on any ocassion.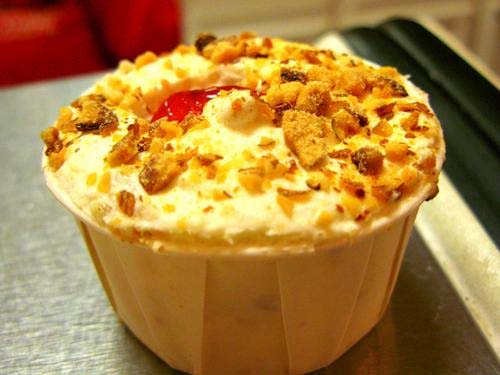 Ingredients
Whipping cream

1⁄2 Cup (8 tbs)

Sugar

1⁄4 Cup (4 tbs)

Vanilla

1⁄2 Teaspoon

Almond extract

2 Drop

Egg white

1

Finely chopped almonds

2 Tablespoon

, toasted

Coconut

2 Tablespoon

, toasted

Instant coffee powder

1⁄2 Teaspoon
Nutrition Facts
Serving size
Calories 233 Calories from Fat 142
% Daily Value*
Total Fat 16 g24.9%
Saturated Fat 9.1 g45.7%
Trans Fat 0 g
Cholesterol 41.4 mg
Sodium 22.2 mg0.9%
Total Carbohydrates 17 g5.8%
Dietary Fiber 1.6 g6.4%
Sugars 15 g
Protein 3 g5.4%
Vitamin A 0% Vitamin C 0.41%
Calcium 3.9% Iron 2.8%
*Based on a 2000 Calorie diet
Directions
Whip cream with 2 tablespoons sugar, vanilla, and extract.
Beat white to soft peaks.
Gradually add remaining sugar; beat to stiff peaks.
Mix almonds and coconut.
Fold white and half the nut mixture into cream; spoon half into 2 paper bake cups in muffin pan.
Stir coffee powder into remaining whipped cream mixture.
Spoon into 2 bake cups.
Sprinkle remaining nut mixture over all.
Freeze.