»

Recipes

»

Pie

»

Two Toned Cream Pie
Two Toned Cream Pie Recipe
Two Toned Cream Pie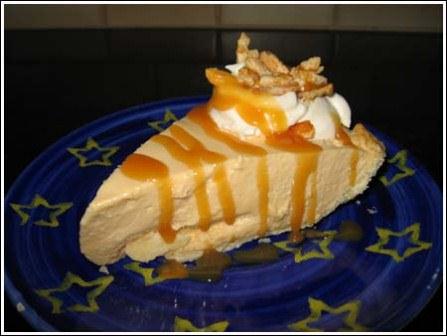 Ingredients
Pie crust

1

, baked

Baked pie crust

1

Cornstarch

1⁄2 Cup (8 tbs)

Salt

1⁄4 Teaspoon

Milk

3 Cup (48 tbs)

Egg yolks

1

, beaten

Butter

2 Tablespoon

Peanut butter

2 Tablespoon

Chocolate

1 Ounce

, melted

Egg whites

1

Cream of tartar

1⁄4 Teaspoon

Sugar

5 Tablespoon

Sugar

5 Tablespoon

Vanilla

1⁄2 Teaspoon

Vanilla

1⁄2 Teaspoon
Nutrition Facts
Serving size: Complete recipe
Calories 2902 Calories from Fat 1167
% Daily Value*
Total Fat 132 g202.7%
Saturated Fat 59.8 g298.9%
Trans Fat 0 g
Cholesterol 317.4 mg
Sodium 1921.6 mg80.1%
Total Carbohydrates 400 g133.2%
Dietary Fiber 6.9 g27.6%
Sugars 203.9 g
Protein 42 g85%
Vitamin A 33.1% Vitamin C
Calcium 84.8% Iron 27.4%
*Based on a 2000 Calorie diet
Directions
GETTING READY
1) Preheat the oven to 350°F.

MAKING
2) In a small bowl, beat together the egg yolks till light and fluffy.
2) In a heavy pan, add sugar, cornstarch and salt and mix well. Slowly, pour in milk while stirring and cook over medium heat till the mixture begins to boil.
3) Take the pan off the flame, and add in the egg yolks. Continue cooking for 2 minutes.
4) Add in the butter and vanilla extract.
5) Pour the mixture into a large bowl, cover with a wax paper and let chill in the refrigerator.
6) Take the mixture from the fridge and divide it into two equal portions. Add peanut butter to one portions and melted chocolate to the other. Whip bothe separately until they turn soft and creamy.
7) Take the baked pie crust and spread the peanut butter cream to form the base. Next, spread the chocolate cream over it without disturbing the peanut butter layer too much. Keep aside.
8) Beat the egg white along with the cream of tartar to form soft peaks. Slowly, stir in the sugar and beat to form stiff peaks.
9) Spread the meringue over the cream layer.
10) Bake for about 12 minutes or until the meringue turns a slight golden brown.

SERVING
11) Serve the Two-Toned Cream Pie chilled.