»

Recipes

»

Two Step Carbonara
Two Step Carbonara Recipe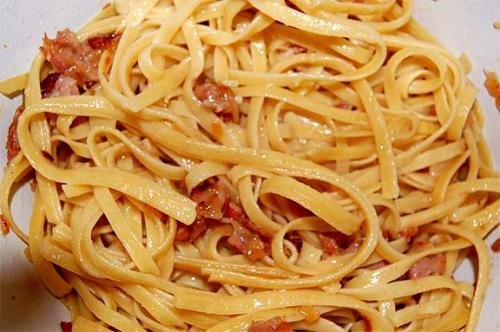 Ingredients
Spaghetti/Linguine

12 Ounce

(350 Grams)

Diced pancetta/Smoked streaky bacon

140 Gram

(1 Package)

Olive oil

2 Teaspoon

Garlic

1 Clove (5 gm)

, crushed

Egg

1

Egg yolks

4

Parmesan

2 Ounce

, grated (50 Grams)
Nutrition Facts
Serving size
Calories 376 Calories from Fat 140
% Daily Value*
Total Fat 16 g24.3%
Saturated Fat 6.4 g32.2%
Trans Fat 0 g
Cholesterol 181.5 mg
Sodium 551.2 mg23%
Total Carbohydrates 44 g14.5%
Dietary Fiber 0.02 g0.07%
Sugars 0.2 g
Protein 18 g35.3%
Vitamin A 4.5% Vitamin C 0.43%
Calcium 15.3% Iron 14.4%
*Based on a 2000 Calorie diet
Directions
GETTING READY
1. In a mixing bowl, whisk the eggs seasoning and parmesan cheese.

2. MAKING
3. In a large sauce pan, boil the pasta in salted water for 12 to 15 minutes until almost tender or al dente.
4. While the pasta is boiling, heat oil in a large skillet and fry the pancetta until it is golden brown and crispy.
5. Add the garlic and sauté for another minute. Turn off the heat.

FINALIZING
6. When the pasta is cooked, drain in a colander, reserving ½ cup of the liquid.
7. Add the hot pasta and 2 tablespoons of the cooking liquid to the pancetta in the skillet and toss.
8. Add the egg and cheese mixture and mix well until the pasta is well coated with a creamy sauce.

SERVING
9. Heap the pasta in deep dish plates and garnish with remaining parmesan.
10. Serve immediately.