»

Recipes

»

Candy

»

Tutti Fruit
Tutti Fruit Recipe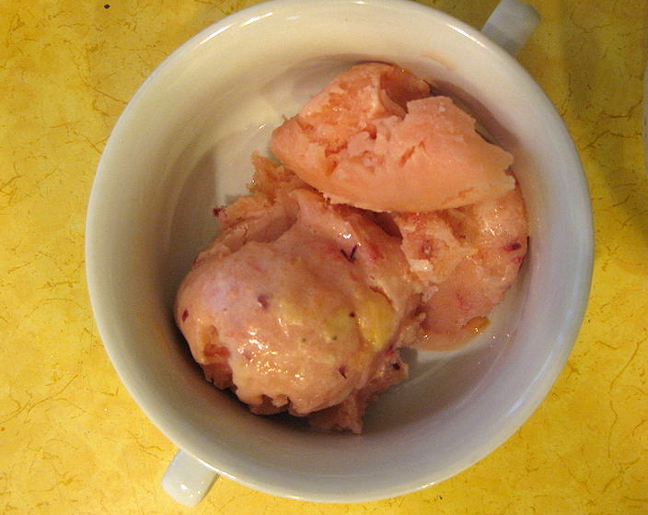 Summary
Preparation Time
15 Min
Cooking Time
20 Min
Ready In
35 Min
Difficulty Level
Easy
Ingredients
Chopped candied cherries

50 Gram

(1/3 Cup)

Chopped angelica

2 Tablespoon

Chopped candied pineapple

50 Gram

(1/3 Cup)

Light raisins

50 Gram

(1/3 Cup)

Rum

125 Milliliter

(1/2 Cup)

Egg whites

2

Sugar

125 Gram

(1/2 Cup)

Water

125 Milliliter

(1/2 Cup)

Gelatin

1 Teaspoon

, dissolved in 2 tablespoons warm water

Whipping cream

250 Milliliter

(1 Cup)

Vanilla extract

1⁄2 Teaspoon
Nutrition Facts
Serving size: Complete recipe
Calories 2239 Calories from Fat 790
% Daily Value*
Total Fat 86 g132.4%
Saturated Fat 57.2 g286.1%
Trans Fat 0 g
Cholesterol 357.1 mg
Sodium 385 mg16%
Total Carbohydrates 264 g88.1%
Dietary Fiber 2 g8%
Sugars 241.8 g
Protein 12 g24.6%
Vitamin A Vitamin C 2.7%
Calcium 17.8% Iron 6.5%
*Based on a 2000 Calorie diet
Directions
Put the fruit in a bowl.
Pour over the rum.
Cover the bowl and set aside for 1 hour.
Have the egg whites ready in a heatproof bowl.
Put the sugar and water in a saucepan and stir to dissolve over low heat.
Increase the heat and boil the syrup for 6 minutes or until the temperature reaches 220°F (104°F) on a candy thermometer.
Using an electric beater, beat the egg whites until stiff but not dry.
Pour the syrup over the egg whites in a steady stream, beating constantly.
Pour in the gelatin and beat until thick.
Beat the cream and vanilla extract until thick but not stiff.
Fold the cream into the egg white mixture and freeze, beating twice.
Drain the fruit and add it after the final beating.