»

Recipes

»

Italian

»

Tuscan Minestrone Soup
Tuscan Minestrone Soup Recipe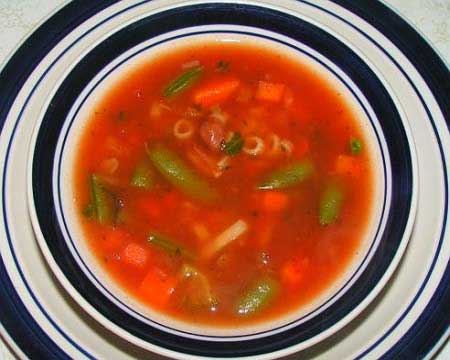 Ingredients
Olive oil

3 Tablespoon

Minced garlic

2 Teaspoon

Bacon strips

7

, diced

Julienne leeks

1 Cup (16 tbs)

Chopped onion

1

Diced celery

1 Cup (16 tbs)

Diced carrot

1

Chicken broth

1 Large

Tomato sauce

1 Cup (16 tbs)

Canned beans

1 Cup (16 tbs)

(Drained)

Sweet peas

1⁄2 Cup (8 tbs)

Green beans

1 Cup (16 tbs)

Zucchini

3

, quartered and diced (Seeds Removed)

Chopped parsley

1 Tablespoon

Chopped basil

1 Tablespoon

(Fresh)

Seashell pasta

1⁄2 Cup (8 tbs)

Grated parmesan cheese

2 Tablespoon

(For Topping)

Salt

To Taste

Pepper

To Taste
Directions
Over medium-low heat, in a large stock pot, heat olive oil and saute garlic, bacon and onion for 3-4 minutes. Add leeks, celery and carrots, saute for 1-2 minutes. Add chicken broth and tomato sauce, bring to boil, stirring frequently. Reduce heat to low and add kidney beans, green beans, sweet peas and salt and pepper. Simmer for 20-25 minutes. Add the zucchini in the last 10 minutes, and the parsley and basil in the last 2 minutes of cooking. The seashell pasta can be added to the soup in the last 8-9 minutes, or alternatively, boiled separately and added to the soup when serving. As it is with most soups, the minestrone will become even more tasty, if it is left to sit for half an hour and then reheated before serving.If you want to make it vegetarian version of this soup just remove bacon from the menu.

Jeff Kidson says :
A rich bold soup that is awesome on a chilly fall day. It is worth the wait till the next day before eating so the flavors will blend and savour.
Posted on:
12 July 2011 - 7:26pm

thanks a lot.
Posted on:
20 June 2007 - 11:57pm